US voters have serious misgivings about both US presidential candidates -- Democrat Barack Obama and Republican John McCain -- faulting the former for lack of experience and the latter for close ties with President George W. Bush, according to a new opinion poll.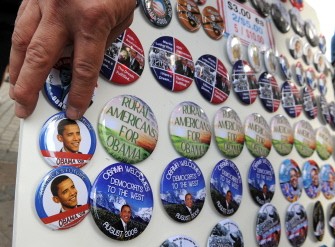 A vendor sells Barack Obama buttons on the street in Denver, Colorado on August 24, 2008 as the city prepares for the Democratic National Convention. The convention begins on August 25 (AFP Photo)
The survey by USA Today/Gallup showed that Obama was still leading McCain 47 percent to 43 percent among registered voters and 48 percent to 45 percent among likely voters.
Both leads were within the margins of error of plus or minus four percentage points.
The survey came as Democrats prepared to launch their national convention in Denver, Colorado, on Monday.
Half of those surveyed worry Obama "may be too closely aligned with people who hold radical political views," and 57 percent said they were concerned he lacked the experience to be an effective president, USA Today said.
Moreover, 53 percent of the respondents said Obama can handle the responsibilities of commander-in-chief and 44 percent said he cannot.
On the other hand, four in 10 said they are worried McCain, who turns 72 next Friday, is too old for the presidency, and 67 percent said they're concerned he'll pursue policies too similar to Bush's.
According to the poll, the electorate remain fairly fluid. Three out of 10 of those polled said they might change their minds between about voting for either of the candidates between now and November 4.
Meanwhile, a separate survey, conducted by CNN/Opinion Research Corporation found that 47 percent of those questioned were backing Obama with an equal number supporting McCain.
Those poll numbers also showed 27 percent of Hillary Clinton supporters had now switched for McCain.