Park and his "claymation" pioneer partner Steve Box won the best animated feature Oscar for "Wallace and Gromit: Curse of the Were-Rabbit" one of two top awards for the British film industry on Hollywood's big night.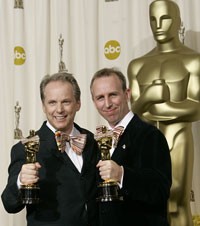 Nick Park and Steve Box pose with their Oscar for Best Animated Feature for "Wallace and Gromit" (AFP Photo)
The British duo beat stiff competition from legendary Japanese animation director Hayao Miyazaki for "Howl's Moving Castle" and US director Tim Burton for "Tim Burton's Corpse Bride".
We're really up with the giants this year," said Park, who won his first Oscar in 1990 for his animated "Creature Comforts" shorts and went on to win two more for "Wallace and Gromit's The Wrong Trousers" (1993) and "A Close Shave" (1995).
"This is our first one for full feature so it's a new one, we get just as nervous," he added.
"We've always been big admirers of Mr. Miyazaki's work. He's respected in the world let alone Japan. And we are so incredibly privileged to be nominated with them really."
The stories of the nutty inventor and his faithful and much more intelligent dog, Gromit, have now won a worldwide following for Park and Box who have built up a successful animation company Aardman.
"The great thing about animation is timing," Park said backstage. "You can be really controlling about the timing. You know, Gromit is silent. He doesn't have a mouth, but he gets all the best lines," he said.
But on top of the success of "Curse of the Were-Rabbit", it has been a trying year for the pair after Aardman's main warehouse in the English city of Bristol burned down in 2005.
"Well, the great thing was the studio itself was not damaged," said Park.
About four and half million dollars worth of memorabilia from the early films was destroyed.
"It was sad but, you know, these things happen. And it was very touching just to see how the English and the people around the world actually treated it as a great loss. And I didn't realize it was very valuable to people, so it was very touching."
Box said that the duo were looking for new ideas for Wallace and Gromit movies "so they're going to go on forever."
Box said that Gromit the dog had been the great international seller because he does not speak.
"It just translates to any language; it's universal. Nick and I are great fans of silent moments in films and so many films these days seems to be full of wise cracking comedians desperate to keep their job almost.
"So, wherever people are, they can experience the film through Gromit's eyes on a kind of deeper level almost -- it rises above words.
"Gromit is silent. He doesn't have a mouth, but he gets all the best lines."