Wal-Mart said on Tuesday it had pulled a major brand of eggs from its stores in China, as concerns rose that an industrial chemical found in Chinese dairy products was in the nation's wider food chain.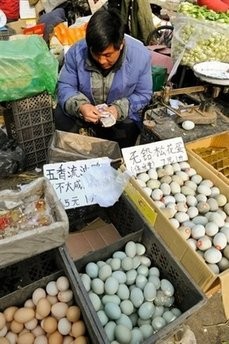 A Chinese egg vendor in Beijing. Wal-Mart has pulled a major brand of eggs from its stores in China, as concerns rose that an industrial chemical found in Chinese dairy products was in the nation's wider food chain.(AFP/File/Teh Eng Koon)
The announcement by the US retail giant came after authorities in Hong Kong said eggs from the same Chinese producer had been found to contain melamine, the chemical at the heart of a scandal in China over contaminated milk.
"Over the past few days, we pulled this brand of eggs off shelves in all our outlets in China," Wal-Mart spokeswoman Mu Mingming told AFP.
Wal-Mart's move was the first major recall of eggs in mainland China over melamine fears, but Mu emphasised this was a precautionary measure and that the products from the Hanwei group had not yet been found to be contaminated.
Most other major supermarket chains in China, including France's Carrefour, said they had issued no such recall.
Four babies died of kidney failure and 53,000 fell ill in China this year after drinking milk or consuming dairy products laced with melamine.
The chemical was apparently mixed into watered-down milk to give it the appearance of having higher protein levels.
The scandal, which erupted last month, has led to a spate of recalls and bans on import of Chinese dairy products around the world.
The revelation in Hong Kong that melamine was also in eggs has led to questions over whether the chemical, which is normally used to make plastics, had been mixed into livestock feed and contaminated China's wider food chain.
Zhang Zhongjun, programme officer with the UN Food and Agricultural Organisation in China, said the melamine in the eggs could mean the chemical was present in a wide range of foods such as farm-raised meats and fish.
Zhang told AFP that China's agriculture ministry was investigating the possibility that melamine had been mixed into farming feed.
"But we do not know the details of the investigation... we want them to immediately report to us the results of their findings," Zhang said.
"If the feed is found to be contaminated, then there is the possibility (that pork, chicken, fish and beef could also be contaminated)."
Zhang said that feed producers could have laced their products with melamine to falsely boost protein content, similar to the methods of the milk producers. However melamine can also be used as a fertiliser.
In Hong Kong, authorities had already announced they would expand their melamine testing of food imported from China to pork, farmed fish and offal products.
The World Health Organisation said the amount of melamine detected in the Hong Kong eggs did not pose a health threat , but it had also asked the government for an explanation as to why the chemical was there.
"There is no immediate public health risk, unless the individual consumes an extraordinary amount of fresh eggs," Tony Hazzard, the WHO's regional food safety advisor, told AFP by phone.
Nevertheless, there was no indication of whether eggs or any other food products in China may have much higher levels of melamine that could pose health risks, with the Chinese government remaining silent on the issue on Tuesday.
China's health ministry said the issue was not under its jurisdiction, while the agricultural ministry and the body in charge of food quality have refused to comment following requests from AFP.