The World Health Organization aims to harness smart technology to stop counterfeit medicines flooding developing world markets with sometimes-fatal results.
The U.N. body sat down with more than 20 technology companies at a conference in Prague on Tuesday to investigate ways to detect bogus drugs, which account for more than a quarter of sales in some poor countries.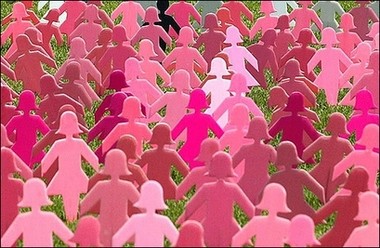 Silhouettes representing breast cancer victims. US drug regulators approved Tuesday the targeted anti-cancer treatment Tykerb.
Howard Zucker, WHO assistant director-general for health technology, said in a telephone interview that experts involved in the project would pull together ideas and brief countries on potential approaches within a couple of months.
"This has to be tailored to country needs based on their resources. A one-size-fits-all solution is not going to be the way to move forward," he said.
Ideas discussed at the conference ranged from bar codes and holograms to digital watermarks and radio tags.
The Prague meeting was the first of its kind and underlines a new sense of urgency about the spread of fake medicines, including ones for killers like AIDS and malaria.
Zucker said the current crisis had been exacerbated by the spread of the Internet, which has become a conduit for many bogus products in both the developed and developing world.
The issue is a growing concern not only to healthcare professionals but also to pharmaceutical companies, who fear for their profits and reputations.
Harvey Bale, director general of the International Federation of Pharmaceutical Manufacturers and Associations, said technology could help to contain counterfeiting but was not a magic bullet. There was also a need for tough legislation and regulations, combined with rigorous enforcement.
In developed countries, counterfeit medicines currently account for around 1 percent of sales, according to most recent figures complied by an WHO-led international taskforce on the problem.
But the rate is more than 10 percent in developing countries and in parts of Africa, Asia and Latin America over 30 percent of the medicines on sale are thought to be bogus. In some former Soviet republics, they make up more than a fifth of the market.