Leonardo Munoz, wearing a foot-tall blue-and-white wig, is ready to bare it all for the glory of Argentina.
Before the start of the World Cup that is keeping billions glued to their TV sets, Diego Maradona — Argentina's greatest player and now its eccentric national team coach — vowed to run naked through the streets of Buenos Aires if his team wins the title.
Following Argentina's 4-1 win Thursday over South Korea, it seems many of the team's fans are ready to follow him.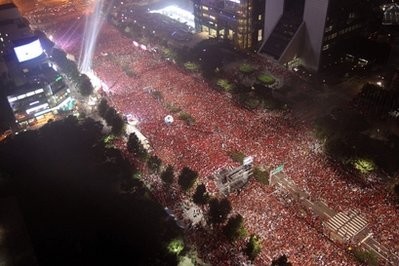 South Korean soccer fans throng in Seoul,
"If Maradona runs naked, I'll do it too — I'll be painted blue and white!" said Munoz, adding he "screamed like an animal" from his desk at a call center during the game.
World Cup fever hits every four years, and fans around the world bring their own particular flavor to watching the spectacle. In Germany, known for its strong work ethic, some firms are allowing employees to watch at the office. Iraqis are enjoying a decrease in violence that, unlike in 2006, lets them gather in public and cheer. In isolated North Korea, the government has allowed some foreign broadcasts of games — albeit on tape-delay — and residents even cheered rival South Korea.
Argentina has endured a decade of political feuding, national insolvency and no soccer titles. But after Thursday's victory, there are signs of hope that this year might bring a much-needed win on the global stage.
"These are critical moments for Argentina, politically and economically, and this provides a bit of relief for the people," said shoe store owner Eva Garcia, 56.
Daniel Roman, who watched the game with 1,000 other fans on a huge video screen in the downtown Plaza San Martin, said the love of the game unites his nation unlike anything else.
"It's what brings Argentines together, this passion," he said.
___
Neighboring Brazil never needs an excuse to party. And 10,000 people gathered on Copacabana beach Tuesday to watch their team's 2-1 win over North Korea. They gulped beer, blew whistles and ushered in the general mayhem that sweeps the nation during the tournament.
"It's football and Carnival combined!" exclaimed 26-year-old Rodrigo Nobre, his Brazil shirt and shorts covered in sand. "It's a time for coming together, forgetting our worries and cheering on our national team!"
Brazil — the global superpower of the Jogo Bonito, or "the beautiful game" as the sport is known around the world — will host the next World Cup, in 2014.
___
There is no beach party in Somalia.
Islamic fundamentalists who control stretches of the African nation have banned watching the World Cup.
"We don't want our people to be preoccupied with seminude, crazy men jumping up and down who are chasing an inflated object," said Sheik Mohamed Osman Arus, head of operations for the Hizbul Islam insurgent group.
"We don't want them to waste their precious time and resources on un-Islamic matches, especially during prayer time," he said.
Hizbul Islam, just like its ally, the al-Qaida-linked al-Shabab group, has imposed a strict version of Islam in areas under its control in southern and central Somalia.
Arus said that his group, contrary to earlier reports, is not arresting people for watching the World Cup or taking any other action against them beyond chasing them away from TVs.
He said militiamen chased dozens of fans from a video hall in the western town of Afgoye, where men and women mingled Saturday to watch the Argentina-Nigeria match in the first World Cup tournament held on African soil.
In Somalia's capital, Mogadishu, fans have been forced to relocate temporarily to the slice of the city under government control, where they can cheer without fear.