Former US President Bill Clinton urged leaders of the world's cities, which produce over two-thirds of greenhouse gas emissions, to act swiftly to save the planet for their grandchildren.
Executives from the 40 largest cities plus 17 affiliate municipalities attended the C40 Large Cities Climate Summit which opened in Seoul, the third such event since 2005.
The former US leader, whose Clinton Climate Initiative develops programmes to help cities cut the emissions blamed for global warming, called for commitments and concrete action at the meeting which ends Thursday.
"You do not have the luxury of just debating what we are going to do and how much money we are going to spend on it," Clinton said in a keynote speech.
He warned that if the world fails to cut greenhouse gas emissions by 80 percent by 2050, it would pay a high price in food shortages, drought and public health dangers.
"It is absolutely certain (that) if we let the worst happen, then the consequences will be so severe that we won't be able to save the planet for our grandchildren unless we are willing to undertake enormously expensive projects which can now be avoided," he said.
Half the world's population lived in cities last year and that figure is expected to grow to 70 percent by 2050, said Clinton, citing UN statistics.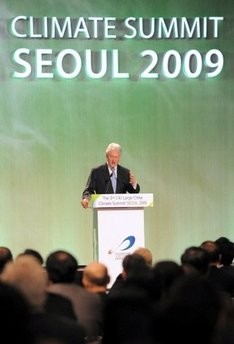 Former US President Bill Clinton delivers his keynote speech at the opening ceremony of the C40 Large Cities Climate Summit in Seoul
Cities occupy just two percent of the world's land mass yet are responsible for more than two-thirds of global energy use and greenhouse gas emissions.
The issue of how cities "find a way to continue to thrive and prosper while reducing greenhouse gas emissions is one of the central questions in the whole struggle," Clinton told a press conference earlier.
He said his initiative focuses on creating "communities that can both provide a greater quality of life and generate more clean energy than they use."
Mayor David Miller of Toronto, who chairs this year's summit, said he was confident it could find balanced ways to combat climate change.
"We will be able to demonstrate not only how you can fight greenhouse gas emissions but how you can also build green sustainable neighbourhoods, create green jobs and contribute back to the fight against climate change," Miller said.
"To continue the momentum, all cities must be resolute in working together. It's not a matter of choice but necessity," he added.
Seoul Mayor Oh Se-Hoon said the South Korean capital would develop a pilot residential and industrial district that would use 20 percent less energy than the national average and cut carbon emissions by more than 40 percent.
Oh said new technologies and renewable energy sources such as photovoltaic, solar and geothermal energy would be used to fulfill the commitment.