MADRID: The Basque separatist group ETA announced a permanent ceasefire, ending nearly four decades of unrest that killed more than 800 people and meeting the key condition for talks with the Spanish government.

WASHINGTON: A US soldier convicted of abusing detainees with his guard dog at the notorious Abu Ghraib prison in Iraq was sentenced to six months in prison by a court martial, a military spokeswoman said.

MOSCOW: Russian prosecutors launched new investigations against former officials of Russia's once number one oil producer Yukos or companies closely associated with the dismantled group, the prosecutor general's office said.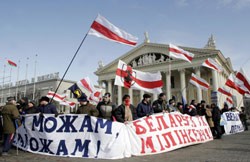 Supporters of the main Belarus opposition presidential candidate Alexander Milinkevich (AFP Phto)
MINSK: Belarussian opposition supporters were spending a fourth freezing night on the main square of Minsk, but their protest showed no sign of shaking authoritarian President Alexander Lukashenko.
BANJUL: Gambian authorities confirmed that they had foiled a coup by some military officers to oust President Yahya Jammeh from power.
BRUSSELS: The European Union approved a first-ever joint blacklist of nearly 100 mostly African airlines considered to be unsafe, in a move spurred by a spate of fatal crashes last year.
WHEELING, West Virginia: US President George W. Bush and Chinese leader Hu Jintao will meet in Washington April 20 for talks aimed at resolving "outstanding differences".
PARIS: Tensions were at fever-pitch in France ahead of a new day of protests against Prime Minister Dominique de Villepin's contested youth labour law, amid growing fears that violence could reignite in the city suburbs hit by last November's riots.
Source: AFP