TRIPOLI (AFP) – Western nations prepared to ramp up further pressure Tuesday to prevent a full-blown catastrophe in Libya where strongman Moamer Kadhafi said his followers were ready to die to save his regime.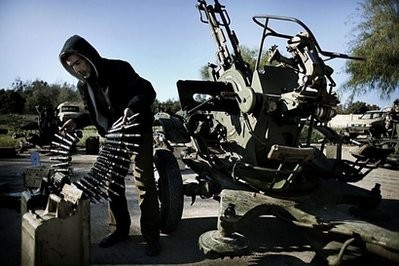 AFP file - A Libyan civilian hold anti-aircraft ammunitions at an army barrack in Benghazi
British Prime Minister David Cameron and French President Nicolas Sarkozy jointly called for a special meeting of leaders to "consider further European Union action" against the Libyan regime, as the US military said it was repositioning its naval forces in the Mediterranean.
Cameron said earlier London and its allies were working on a plan for a military no-fly zone over the north African country to prevent Kadhafi continuing a crackdown that has already cost at least 1,000 lives.
"We must not tolerate this regime using military force against its own people," Cameron told parliament.
Canada's Foreign Minister Lawrence Cannon said in Geneva on the sidelines of a UN Human Rights Council meeting that several allies were balking at the plan.
"In terms of the no-fly zone, there doesn't seem to be consensus among our allies," Cannon said, declining to offer Canada's position. "We still don't have enough information."
Cameron admitted earlier the plan was fraught with difficulty: "We would be trying to cover a vast area, it would take a serious amount of military assets to achieve it."
The 68-year-old Libyan strongman said in an interview with western media organisations that his followers were ready to die for him.
"All my people love me. They would die to protect me," Kadhafi told British and US media in the capital Tripoli, the last major city he controls following a popular uprising that began in the east two weeks ago.
Kadhafi told the BBC, CBS and The Times that he felt betrayed by the United States, which has led calls for him to step down.
Two people were killed and one was wounded late Monday when loyalist forces opened fire on passersby in a drive-by shooting in the eastern city of Misrata, a witness told AFP by telephone.
"They are still firing on people," he said, as shots could be heard crackling in the distance.
Fighting flared earlier Monday in Libya's third city, 150 kilometres (93 miles) east of Tripoli. Opposition forces in control of the city said they thwarted an attack by pro-government forces and a military helicopter was hit by anti-aircraft fire.
There were reports that Libyan air force planes bombed ammunition depots in two separate locations south of opposition-held second city Benghazi on Monday.
The United Nations General Assembly votes on a resolution on whether to suspend Libya from the UN Human Rights Council later on Tuesday.
UN human rights chief Navi Pillay said "the threat of violent reprisals against civilians still looms" in Libya.
Fearing a bloodbath after widespread reports of atrocities, more than 100,000 people have fled into neighbouring Egypt and Tunisia over the past week, the UN said Monday.
More than 61,000 have crossed into Egypt, 40,000 into Tunisia and another 1,000 into Niger on Libya's southern border, UN Emergency Relief Coordinator Valerie Amos told reporters at UN headquarters.
"I am very concerned about the alarming reports of continued violence," Amos said, adding that information on the number of dead in Libya was difficult to obtain. "Estimates range from hundreds to thousands."
In Brussels earlier Monday, the EU agreed to implement an assets freeze and travel ban on Kadhafi and 25 members of his family and inner circle, and ban any supply of arms, ammunition and related material in addition to UN sanctions imposed at the weekend.
The US said it had so far blocked around $30 billion in Libyan assets after imposing its own sanctions late last week.
In Benghazi, the first city to break free of Kadhafi's 41-year rule, pro-democracy protesters insisted they can unseat the strongman alone, without foreign help.
"The Iraqi example scares everyone in the Arab world," said Abeir Imneina, a professor of political science at the university of Benghazi, recalling the devastating sectarian violence that rocked Iraq in the aftermath of the 2003 US-led invasion.
"We don't want the Americans to come and then to have to regret Kadhafi," she added.
Grammy-winning Canadian singer Nelly Furtado said in a Twitter message she would give away $1 million dollars she received from Kadhafi's family for a performance four years ago in Italy.
Washington's ambassador to the UN Susan Rice said Kadhafi's interview on Monday showed he is "delusional" and "disconnected" from reality.