TRIPOLI, March 1, 2011 (AFP) - Libyan leader Moamer Kadhafi insisted his people loved him but was slammed as "delusional" as Western nations prepared Tuesday to ramp up pressure to prevent a full-blown catastrophe in his country.
The United States said it had blocked around $30 billion in Libyan assets, the largest amount ever frozen, while the European Union also imposed its toughest international sanctions yet on Kadhafi's crumbling regime.
US and European leaders weighed the use of NATO air power to impose a no-fly zone over Libya and stop Kadhafi from using air strikes against his own people, as the strongman fights a bloody rearguard action against encroaching rebels.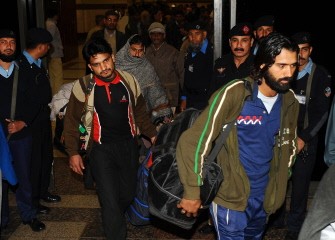 Pakistanis arrive at Allama Iqbal International Airport in Lahore, Pakistan on March 1, 2011 after fleeing from Libya. AFP
Fears grew over the humanitarian fallout after more than six weeks of turmoil as the United Nations stepped up warnings of a mass exodus from Libya. More than 100,000 people have already fled into Egypt and Tunisia.
Kadhafi was unrepentant, although his regime now controls only some western areas around the capital and a few long-time bastions in the arid south. Key oil fields in the east have fallen to the opposition.
Rights groups say at least 1,000 people have been killed in the regime's harsh crackdown on protesters.
"They love me. All my people with me. They love me all. They will die to protect me," Kadhafi said in an interview with Western journalists in Tripoli on Monday, laughing off suggestions that he might leave Libya as the White House aired the prospect of exile for him.
US ambassador to the United Nations Susan Rice said the interview showed "how unfit he is to lead and how disconnected he is from reality".
"It sounds just frankly delusional, when he can talk and laugh to an American and (an) international journalist while he is slaughtering his own people," Rice said.
British Prime Minister David Cameron and French President Nicolas Sarkozy have jointly called for a special meeting of leaders to "consider further European Union action" against the Libyan regime, as the US military said it was repositioning its naval forces in the Mediterranean.
Secretary of State Hillary Clinton denied that military action was imminent but said Kadhafi should quit power "now".
In Geneva at the UN Human Rights Council, Clinton also said that backing peaceful political transitions was not just a matter of ideals but a "strategic imperative" for the West.
Anger at authoritarian Arab regimes in the Middle East and North Africa raged from Algeria to Yemen and has spread to the previously unaffected Gulf states of Djibouti, Kuwait and Oman.
Egypt imposed a travel ban Monday on its ousted president Hosni Mubarak, who resigned and retreated to his home in Sharm el-Sheikh on the Red Sea on February 11 following weeks of protests.
Fresh clashes erupted on Monday between Omani police and protesters, a day after police killed at least one as the regional turmoil reached the normally calm Gulf sultanate.
Two ministers in Tunisia's interim government quit on Monday, a day after prime minister Mohammed Ghannouchi resigned following protests demanding the removal of figures from the toppled hardline regime.