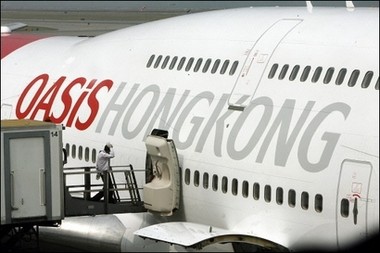 An Oasis plane awaiting departure to London Gatwick Airport in Hong Kong
Oasis Airlines, which promotes itself as the world's first long-haul budget airline, is set to take off on its inaugural cut-price flight from Hong Kong.
One of Oasis' two leased Boeing 747 jumbos was due to be airborne at 1:00pm (0500 GMT) but was delayed by more than two hours awaiting for clearance of flight signals in China.
A full complement of more than 300 passengers was bound for London's Gatwick Airport.
Economy passengers were paying just 1,000 Hong Kong dollars (128 US dollars) for the one-way journey, a special introductory offer that will last until December 14. Business travellers paid just 6,600 dollars.
"Our vision is to give Hong Kong high-quality, low-fare and direct flight services," said Oasis chairman Raymond Lee at the launch.
Industry analysts are watching Oasis closely as it competes against Asia's leading airline Cathay and Britain's established British Airways and Virgin Atlantic, which charge at least double the price on the same route.
Oasis promises full-value service at budget prices -- serving two hot meals and complementary tea, coffee and water with soft drinks, snacks and alcohol available for purchase in the economy class.
Both economy and business classes have personal seat-back TV with a choice of up to 16 video entertainment channels offering films that are likely to be seen by most passengers, including last year's "Batman Begins" and "Ocean 12" from 2004.
Passenger Maria Chau said she'd never been to London before and only decided to go because of the Oasis offer.
"I thought I'd book it because the price is so low," Chau said as she checked in her baggage. "I'm very excited."
The carrier said it hopes the ticket price will remain 30-40 percent lower than other major airlines after its promotional period, while at least 10 percent of the economy class will still cost only 1,000 dollars.
Lee said the airline is actively seeking to increase its fleet to five in its first year of operation, hoping to bring this up to 25 planes in five years.
Lee believes it will take 12-18 months for the carrier to break even.
Oasis boasts an average of 500 bookings daily since it began taking reservations in September and expects ticket sales to reach more than 55,000 in the first quarter and 190,000 in its first year.
Oasis is flying four times a week to and from London and it will begin its daily service from November 25.
It plans to increase its routes by two to three more, including Oakland in San Francisco which will begin service from the first quarter 2007.
Lee said the airline has also obtained license to fly to Chicago, Milan, Berlin and Cologne/Bonn. It is filing applications to operate to Vancouver, Toronto, Zurich, Paris, New York and Los Angeles.
Lee said the carrier is in talks to partner with other budget airlines for connections to the rest of Europe and North America.
It has opened talks with UK-based easyJet and Ryanair, as well as Germanwings, Southwest Airlines and JetBlue.
The airline has also established partnerships with Cargolux and Hong Kong Air Cargo Terminals Limited (HACTL) to offer cargo services but passenger flights will remain its core service.