A "worst-case" evacuation plan that herded tens of thousands of Australians from the path of a monster cyclone and its final shift south were credited Thursday for the miraculous lack of casualties.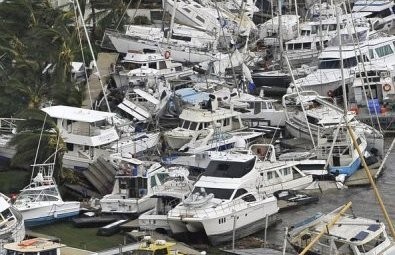 Boats are seen in the Hinchenbrook Marina having been blown from their morrings in the town of Cardwell on February 3, 2011.
Early reports suggested no one was killed or injured when Severe Tropical Cyclone Yasi ploughed into Australia's populous northeast coast shortly before midnight, defying predictions of deadly consequences.
In the words of one resident: "We didn't just dodge a bullet, we dodged a rocket."
Officials said early and thorough precautions, which included the closure of two hospitals in the tourist city of Cairns and the evacuation of tens of thousands of homes, were to thank for the lack of deaths and injuries.
"Even as we worried about fellow Australians facing danger and very, very frightening hours I think at the same time we knew that they were facing that danger with courage, and that they were well prepared," said Prime Minister Julia Gillard.
"Today it seems that that courage and that degree of preparation has won through."
Neil Roberts, state emergency services minister for Queensland, attributed the lack of human losses to residents heeding evacuation warnings and readying themselves for the onslaught, and a "worst case scenario" approach by authorities.
Yasi's southerly shift on its final approach to the coast also spared the city of Cairns, gateway for tourists to the Great Barrier Reef, he added.
"I think we're all breathing a sigh of relief," Roberts told reporters.
"If this cyclone had struck a major population centre... thankfully no one's been seriously injured, we've had no loss of life but the potential was there.
"This was the worst cyclone this country has experienced, potentially, for 100 years and I think that due to very good planning, a very good response... we've been able to keep people safe," he added.
Disasters expert Tom Worthington said last month's flooding disaster, which killed more than 30 people and swamped tens of thousands of homes south of the cyclone zone, meant emergency officials would have been primed for Yasi.
"The general community has trouble realizing it's not that we sit around waiting for a cyclone, and then decide what to do," said Worthington, from the Australian National University.
"The systems are designed with this sort of thing in mind. There's lots of people with large books full of emergency plans with what to do, that have been tested in exercises," he told AFP.
Worthington said strict building standards meant most structures had withstood the wild weather, but warned that there may be further strife to come.
"There's another cyclone out in the Pacific headed this way, so this isn't the end of it. We're not out of the woods yet."