Yemeni President Ali Abdullah Saleh left hospital Saturday, more than two months after he was wounded in a bombing at his Sanaa residence, but he will remain in Riyadh, a Saudi official told AFP.
"The Yemeni president left the military hospital this evening at 9:00 pm (1800 GMT) after receiving the necessary treatment and was taken to a temporary residence for a recovery period," he said, speaking on condition of anonymity.
He did not say how long Saleh would stay, as an uprising continues in Yemen against his government.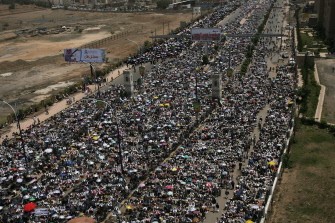 : Thousands of Yemeni anti-government protesters perform the first Friday noon prayer of Islam's holy fasting month of Ramadan in Sanaa on August 5, 2011 before rallying against the regime.
Saleh was admitted to the Saudi military hospital the day after the June 3 attack on his official residence. He appeared on television on July 7 for the first time since the bombing, covered in bandages.
Three days later, he was shown on television receiving John Brennan, US President Barack Obama's top counter-terrorism adviser. Saleh was in better shape than in his earlier appearance, although burns on his face were still visible.
The White House said Brennan had called on Saleh during the meeting to sign a transition plan sponsored by the Gulf Cooperation Council (GCC) that would see him cede power within 30 days in exchange for immunity from prosecution.
Since Saleh's departure to Saudi Arabia, Yemeni Vice President Abdrabuh Mansur Hadi has assumed power but has not been designated the de facto head of state.
The opposition, meanwhile, has called for the creation of an interim council, to prevent Saleh's return.
Saleh has ruled Yemen since 1978 and has worked closely with the United States on fighting Al-Qaeda, but cooperation has been sharply curtailed this year due to the turmoil in his country.
Since January, protesters have been calling for Saleh to step down.
Yemeni security forces and government supporters have carried out bloody attacks on protesters, while opposition tribesmen have battled government forces in the capital Sanaa and elsewhere, and some military units have defected to the opposition