Yemen's Ali Abdullah Saleh is in poor condition and suffering breathing problems in a Saudi hospital, an informed source said on Saturday, a week after a bomb blast wounded the embattled president.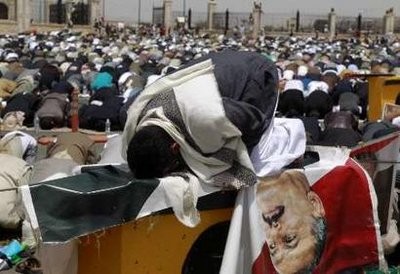 A supporter of Yemen's President Ali Abdullah Saleh performs prayers on Saleh's poster during a rally in Sanaa June 10, 2011.
"The information we have says that President Saleh is still in bad condition, mainly as he suffers problems in the lungs and respiration," the source, a Yemeni in Riyadh, told AFP requesting anonymity.
Saleh was flown to Riyadh on June 4 on board a Saudi medical aircraft to be treated a day after an explosion ripped through a mosque where he was praying inside his Sanaa presidential compound.
"What confirms this (Saleh's bad state of health) is that many Yemeni ministers tried to visit him and their requests were turned down," said the Yemeni source.
Yemeni officials have insisted Saleh is speedily recovering, and tens of thousands of his loyalists took to the streets of the capital Sanaa on Friday after news that he was out of intensive care.
A Saudi official told AFP on Wednesday that Saleh's health was "stable" and dismissed reports about a deterioration in his health as "baseless." The Yemeni strongman has not been seen in public since the attack.
Several officials, including caretaker Prime Minister Ali Mohammad Mujawar and head of parliament Abdulaziz Abdulghani, were hurt in the bomb attack and are being treated in Saudi Arabia.
"They were seen in hospital with their bodies entirely covered in wound dressings," the source said referring to the two officials, adding their eyesight was believed to have been damaged.
Large numbers of Saleh loyalists gathered Friday at Sanaa's Sabbeen Square to celebrate after state media said the beleaguered leader was making a quick recovery and out of intensive care.
State media put the number of pro-Saleh demonstrators in Sanaa at millions, a figure impossible to verify.
They gathered a few kilometres (miles) from large crowds of anti-Saleh demonstrators who have been pushing for the establishment of an interim ruling council since Saleh left the country.
Vice President Abdrabuh Mansur Hadi has so far not responded to mounting pressure from demonstrators to set up the proposed council as ruling party officials insist that Saleh remains the president.
At least 200 protesters have been killed in Yemen in more than four months of protests demanding the ouster of Saleh, who has been in office since 1978.
But Saleh has been adamant in refusing to sign a Gulf-brokered deal that would see him quit in return for immunity against prosecution.
Dissident General Ali Mohsen al-Ahmar said in an interview published Saturday that Yemen will be a safer country without Saleh, accusing him of nourishing Al-Qaeda in a ploy to "blackmail" foreign countries.
"I would like to stress that Yemen will be more secure and stable after the departure of Saleh, and will contribute to the security and stability of the whole region," Ahmar told Al-Hayat newspaper.
"Everyone knows that some of these terrorist groups are present among his private guards," he said.
"Also, these terrorist groups that he keeps warning of, at home and abroad, are supervised by two of his nephews: the head of his private guard, Tariq Mohammed Saleh, and the head of state security, Ammar Mohammed Saleh."
The general also accused Saleh of deliberately handing over control over southern areas of Yemen to Al-Qaeda.
"Just after Saleh spoke of Al-Qaeda seizing control of provinces, the regime handed over Abyan to terrorist gunmen," he said.
"I fear that the regime might hand over control over other provinces to terrorist groups."
Five soldiers were killed Saturday in an ambush by suspected Al-Qaeda gunmen near Loder, in the southern Abyan province, where suspected Qaeda gunmen have seized control of Zinjibar, the region's capital.
Scores of soldiers were killed in the battle to control the city last month.