Fourteen football referees will go on trial for match fixing in the Vietnamese Premier League in the past few years, the People's Supreme Prosecution Bureau has announced.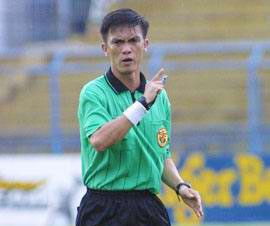 Luong Trung Viet in a V-League match when he was still a referee
Prosecution said the referee Luong Trung Viet was involved in almost match fixing deals related to Eastern Asia-Pomina Steel Club.
Specifically, in the 2004 V-League, club managing director Nguyen Tien Huy asked the referee to help the club gain points in five or six matches and the price was about VND30-50 million for a game.
With the offer, this referee asked the referees Le Van Tu, Pham Huu Loc, Hoang The Dung and Truong The Toan to carry out the plot, and they agreed to take part in.
The plan was executed and Viet got about VND130 million from the club but he transferred to the other referees about VND90 million.
Nguyen Thanh Vinh, Tran Manh Cuong, Vu Tien Thanh and Le Van Cuong of the club are facing charges of giving bribes. Meanwhile, Le Van Tu, Pham Cong Duc, Nguyen Quang Huy, Nguyen Tien Dung, Pham Huu Loc, Truong The Toan, Vu Trong Chien and Nguyen Huu Thanh are facing charges of taking bribes.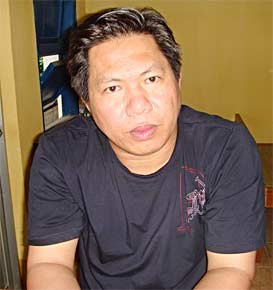 Pham Ngoc Hung
* In related news, the police are investigating those arrested in Ho Chi Minh City last Sunday for organizing football betting, which is illegal in Viet Nam.
Nguyen Thuc Hai and Pham Ngoc Hung, two of those detained last Sunday, confessed that they and six other Vietnamese had bet with an international gambling company in Hong Kong and been controlled by three Hong Kong persons.
Hung was in charge of organizing an agent network in Viet Nam and operating it. He contacted with overseas persons by phone or flying to Hong Kong. For a football night, he pocketed from US$5,000 to dozens of thousands of dollars and Hai got US$500-2,000.
Related article
Police Break Illegal Big Betting Ring, Detain 19