The Department of Labor, Invalids and Social Affairs in the central province of Quang Ngai convened a meeting on February 16 with the police department, the Women's Association and other unions to discuss treatment meted out in raising Nguyen Thuc Phi by her adopted father.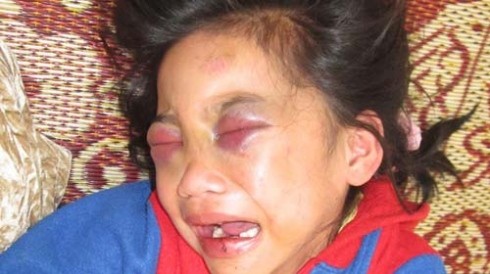 The little girl, Nguyen Thuc Phi with bruises  on her face (Photo: Tuoi tre)
Participants at the meeting decided that for the time being, 10-year-old Nguyen Thuc Phi girl should live in the province social sponsor center that is run by the Department of Labor, Invalids and Social Affairs.
At present, officials in the Department of Labor, Invalids and Social Affairs will take turns in caring for her at the general hospital. Once the child is discharged, the Department will propose to the People's Committee to send her to the social sponsor center.
Any charitable contribution should be sent to the Division of Child Protection and Care.
In related news, a 7-year-old boy was brutally beaten by his father in the Mekong delta city of Can Tho.
Police in Can Tho City were informed by deputy headmaster Tran Thi Ngoc Han from the Kim Dong Primary School that a student had bruises on his back after he was beaten by his father.
The People's Committee in An Khanh Ward and the police are investigating the boy's father, 35-year-old Tran Van Diep. So far he has admitted to going into a rage and beating his son, Tran Viet Quang, on February 13 for not doing his homework.
Related article:
Man arrested for brutally torturing adopted daughter