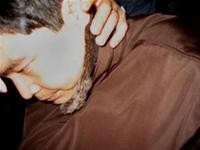 Pham Tien Dung
Pham Tien Dung, the planning manager of Project Management Unit 18 (PMU18), Ministry of Transport, was arrested on the eve of March 3 for allegedly using bribery to win contracts.
His boss, PMU18 director Bui Tien Dung, was arrested in January 2006 for gambling in football, which is illegal in Viet Nam.
Police have been questioning 1973-born Pham Tien Dung about his boss's wrongdoings and the source of money that his boss Dung had used to gamble. In jail, the former PMU18 director confessed to police that he has spent US$1.8 million on football bets in recent months.
Also on March 3, Bui Tien Dung's wife was questioned by police about his villa by Ngoc Khanh Lake in Ha Noi, where she is living, and about other related matters.