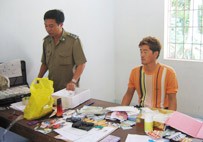 Park Jong-jun (1,R) is captured at the police station
A South Korean national was caught with a gun in his pocket as he tried to enter Viet Nam at the Moc Bai border crossing on October 20.
Police say Park Jong-jun has entered Viet Nam more than 20 times in the past ten months, coming through Moc Bai on several occasions.
Apparently he spent some time observing the way people and luggage were checked at the border, then bought the gun in Cambodia and headed back to Viet Nam.
He was unaware that Vietnamese police had found out about the gun and were waiting for him.
Jun told police he had bought the gun to 'deal with' some people who had cheated him in a business deal.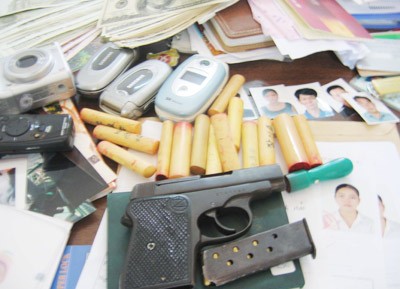 A gun and clip, pornography and narcotics are found in his pocket
A search of his pockets also revealed a cartridge clip, some pornography, a small quantity of narcotics and a pile of photos of young Vietnamese and Cambodian women.
He confessed to acting as a marriage go-between and taking seven Vietnamese women to South Korea. His share of the US$4,000 payment per bride was US$600.
Several foreign tourists at the border crossing praised the Vietnamese police for doing an excellent job.