The Bien Hoa city People's Procuracy has not yet arrested the offenders of the fatal rail accident, as they blame the incorrect procedure in handing over the case documents from the province police to the city police.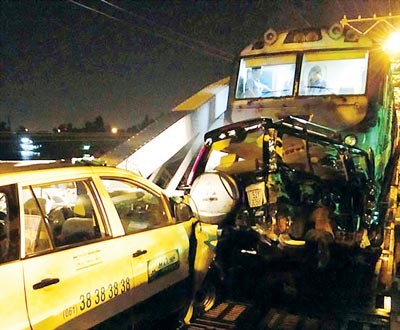 Site of train accident that slammed into six cars in Bien Hoa city (Photo: SGTTO)
On February 6 the train SE2 traveling from HCM city to Hanoi, hit six cars stationed in a row in a traffic jam on the Ghenh Bridge in Bien Hoa city in Dong Nai province near Ho Chi Minh City, killing two people and injuring 26 others.
After the Dong Nai province Investigation Police Agency prosecuted the case, all related documents were handed over to the Bien Hoa city police with the proposal that the city People's Procuracy must take eight offenders in custody.
However, the People's Procuracy rejected the proposal because the province police should have handed over the case documents directly to the provincial People's Procuracy. This organ would then be responsible of handing the documents to the city People's Procuracy so that the proposal to take the offenders in custody would have been approved.
According to Ho Van Nam, head of the Dong Nai Province People's Procuracy, the proposal will take one to two days for approval.
The proposal made by the Bien Hoa city police names only eight of the nine offenders which are the two train drivers Nguyen Van Tuy and Nguyen Xuan Phu, the signal light maintenance staff To Van Toan, the four men in charge of the railway barrier Tran Van Thoi, Tran Viet Hai, Bui Van Thuan and Nguyen Van Luong and taxi driver Nguyen Minh Chau.

Related article: