In an effort to cope with an alarming increase in deforestation, Quang Nam Province will not only impose fines on illegal lumberjacks, but also force them to replant destructed areas.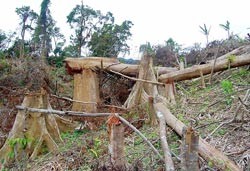 Tens of hectares of forest have been cut down for farming in Quang Nam Province
The chairman Quang Nam Province's municipal government, Le Minh Anh, has recently directed the province's Department of Agricultural and Rural Development to check all construction projects to discover those responsible for illegal logging and burning.

With any agency, organization, business or individual found to be illegally logging being heavily fined and required to cover the costs of reforestation, it is hoped that it will improve the fight against deforestation by loggers and farmers.

In early May local forestry officials found that some 20 hectares of forest, lying along the legendary Truong Son Road (also known as the Ho Chi Minh trail), had been destroyed for farming.

Another 20 hectares of forest in Nam Giang and Nong Son districts had been cut down for farming.

Forestry officials also discovered that lumberjacks had illegally cut down nearly 330 cubic meters in Nong Son District.

Recent reports from Quang Nam Province's Department of Forestry Management show that in the first four months of the year, forest rangers have smashed 700 cases of deforestation, seizing 1,072 cubic meters of sawn timber and 572 cubic meters of round timber.

On May 9, Nguyen Thi Chay, 54, resident of Dong Giang District, was fined VDN 25 million (US$1400) for destroying 2.5 hectares of forest in the region.

Aside from paying fines, Chay was also required to replant the destructed areas with trees within 10 days of receiving notification of the fine.