The National Traffic Safety Committee has called on relevant authorities to prevent road accidents amid the increasing use of alcohol and drug use by drivers, which is thought to be the main cause of most serious accidents.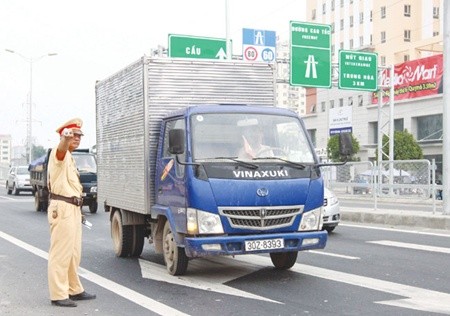 A policeman directs a truck in Ha Noi. Authorities have been instructed to prevent road accidents amid the increasing use of alcohol and drug use by drivers, which is thought to be the main cause of most serious accidents. VNA/VNS Photo Doan Tan
In the first six months of this year road safety has improved in terms of major accidents involving heavy trucks, containers, and buses, but there is a long way to go yet.
According to a report from the committee, around 11,000 accidents have occurred this year, killing nearly 4,000 in the first five months and injuring over 10,500 others, representing a year-on-year reduction of 1,600 in the number of accidents and 210 and 2,000 in the number of fatalities and injuries.
But more significantly, in the first two months - coinciding with Tet, the most stressful time for traffic when millions return home – safety and congestion in HCM City and Ha Noi were much better than usual.
"Ha Noi has adjusted 50 traffic lights and is implementing a project to connect all traffic lights to make a grid to reduce congestion," Nguyen Quoc Hung, deputy chairman of the city People's Committee, was quoted as saying in Thoi bao Kinh te Viet Nam (Viet Nam Economic Times) newspaper.
Most accidents in Ha Noi occur at the intersection of national roads with commune and district roads. To improve the situation, over 200 speed bumps and 300 boards were put up and this reduced accidents by 13 per cent.
The reduction in the incidence of accidents this year may not be sustainable because of the increasing use of alcohol and dugs, the committee warned.
Nguyen Van Huyen, head of the Viet Nam Road Administration, said: "In rural areas the occurrence of accidents due to alcohol is rife; in urban areas, the number of people wearing low-quality helmet is increasing."
Poor traffic infrastructure also hinders efforts to reduce congestion and accidents, he said.
Alcohol and drug use was found to be behind many serious accidents, he added.
According to statistics from traffic police, alcohol figured in around 6 per cent of traffic accidents, but an international seminar placed it at over 40 per cent, and even higher during festivals.
The most serious problem is the increase in the number of drivers using drugs and causing mayhem.
Earlier this year, during a crackdown, the northern city of Hai Phong caught 217 drivers high on drugs.
HCM City police officers had reported 117 such cases by the end of May.
Around 11,000 drivers in 16 provinces were tested —when not driving — and 99 of them were found to use drugs.
"We can find out if a driver has drunk alcohol, but not if they are high on drug," a Ha Noi police officer said.
It is the responsibility of transport operators to ensure their drivers do not use drugs, he said.
"Annual health tests are needed for drivers and are very important in reducing traffic accidents."