The Ho Chi Minh City People's Court sentenced a 19-year-old babysitter to 18 years in jail for brutalizing a 18-month-old baby to death last year.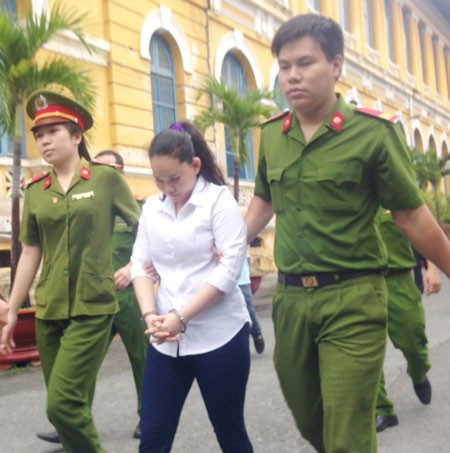 (Photo: SGGP)
The case caught the public's attention for its seriousness. According to the indictment, 19 year-old Ho Ngoc Nho from the Mekong Delta city of Can Tho agreed to keep children of workers at her rented house in Linh Trung Ward, Thu Duc District.

Nho received a 18 month old boy from his mother on November 16, 2013. After receiving the baby Nho spoon fed the baby his breakfast but the baby cried and refused to eat, Nho got angry and picked up the baby by his legs, turning him upside down, in an attempt to stop him from crying.
She accidentally dropped him on the ground, causing the baby scream loudly.

The angry babysitter stamped her foot on the baby's chest and abdomen, and then went to the restroom, leaving the baby on the floor. After 20 minutes, Nho returned and found the baby lying motionless, she then rushed the baby to hospital but doctors confirmed him dead before any treatment could be administered.

The court decided to sentence her to 18 years imprisonment as per article 93 of the Vietnamese penal code covering killing children with punishment ranging from 12 to 20 years behind bar, life imprisonment or death penalty.
The court jury said that they have extenuated the punishment as Nho was committing the crime for the first time and nursing their children under 36 months old.

The jury also ordered Nho and her family to pay VND100 million (US$4,730) as compensation to the dead baby's family.