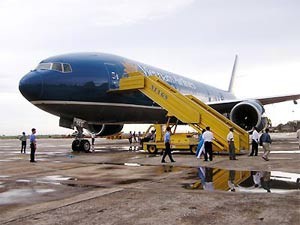 Three different flights of Vietnam Airlines has been postponed over the past few months due to bomb hoaxes. (Photo:TK)
Vietnam Airlines said on Wednesday that the three bomb hoaxers who had caused three flights to be delayed in the past five months were no longer welcome aboard its aircraft.
From November 1, the national carrier said, Ho Chi Minh City residents Bach Truong Son, 51, and Lam Tan Ngan, 38, and Hanoian Nguyen Thai Son, 33, would be personae non grata.
Each of the three had joked about having a bomb in their bag after boarding, causing take-off to be delayed and infuriating hundreds of passengers.
The three delays cost Vietnam Airlines billions of dong.
Police in Ha Noi initiated criminal proceedings against Nguyen Thai Son on Tuesday, the first such case in Viet Nam. He was charged under Article 217 of the Criminal Code.
Related link: