Ho Chi Minh City Police raided the Tan Hoang Phat massage parlor in Thu Duc District on December 7 and rescued nearly 90 young women who had been forced into prostitution by the owners.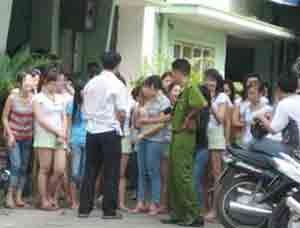 Masseuses of Tan Hoang Phat massage parlor rescued by the police.
At the police station, 88 masseuses said the owners of the massage company had locked them in the house, forced them into prostitution and taken exorbitant fees and charges from their wages.

Preliminary investigations revealed that Phan Thi Yen, 29, her husband and Phan Cao Tri (also known as Sy), 35, owned the Tan Hoang Phat Services and Trading Co., which operated five massage parlors in Linh Chieu District of Thu Duc District.

In order to work at the company, aside from signing an employment contract, job seekers had to agree to pay Yen and Sy VND 24 million towards the cost of their clothing, lodging, cosmetics and training.

To escape police attention, Yen and Sy gave their recruits new names and provided them with new identity cards and other personal papers. Each masseuse was paid a monthly salary of VND500,000. Their main source of income came from tips.

According to the masseuses, they were forced to sexually excite customers and sell sexual favors to earn tips.

All the tips would be pooled by Yen and Sy, who distributed the tip money at the end of every month, after deducting expenses such a 10 percent management fee, VND 2.6 million each for board, between VND500,000 and VND2,000,000 for cosmetics, from VND500,000 to VND1,000,000 for snacks and a further sum to reduce each employee's original debt of VND24 million.

Every day, the massagers were forced to work from 5 a.m. to 2 a.m. the following morning under the supervision of more than 20 security guards. They were not allowed to leave the house.

The massagers had to eat at their workplace. Foods were sold to them at exorbitant prices. For example, they had to pay VND60,000 for a small plate of sautéed water morning glory or more than VND100,000 for a dish of simmered pork ribs. All other necessities had to be purchased from the company at similarly inflated prices.

One of masseuse said that the only occasions they were let out of the house were to go to birthday celebrations for Yen and her husband and their relatives. To participate in a party, each of them had to give to owner of the party between VND500,000 and VND1,500,000 as gift.

If a massager wished to go home to visit their families, she was not only forced to pay "a deposit" of VND15,000 to Yen, but also asked another massager to make a letter of guarantee for her. If the girl ran way, the guarantor had to pay Yen VND50 million.

Another massager said that they could earn from VND10 million to VND30 million each month, but after paying all the expenses charged by the owners of the company, they were almost broke.

Sy ruthlessly beat any massager who dared protest his demands. Sometimes, he used a gun to force the massagers to work.

When a masseuse fell sick, she was not allowed to go to the doctor. She had to tell her manager her symptoms and her boss would have someone gone to the drug store to buy medicine for her.

In the event a massager was severely ill, she would be taken to the hospital under the close supervision of a security guard.

A police official said that at least 16 massagers had tried to run away from the company. Three suffered spinal column injuries after jumping out of the building. Others were captured and punished by being kept in cages with dogs.

The police have now arrested and put in temporary detention eight managers and security guards from Tan Hoang Phat Co. Yen and Sy are on the run.

The police have also seized a pistol and 23 bullets, employment contracts, identity cards and the massagers' letters of undertaking.