Inspectors of the Ministry of Culture and Information and Ministry of Public Security raided a computer store in Ho Chi Minh City on April 20, finding infringements of intellectual property.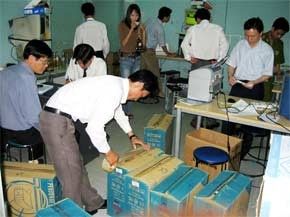 Inspectors detain computers with unlicensed software at Titan Store in Ho Chi Minh City (Photo: Tuong Thuy)
At the computer store Titan on Nguyen Thi Minh Khai Street in District 3, the inspectors found out unlicensed software programs installed in computers available for sale. The software programs included Autodesk AutoCAD, English-Vietnamese and Vietnamese-English Lac Viet Dictionary, ACDSee, Corel Draw, Photoshop, Adobe Acrobat, Microsoft Windows XP and Microsoft Office XP. The inspectors detained 19 CPUs.

Mr. Vu Xuan Thanh, Chief Inspector of the Ministry of Culture and Information (MCI), was in charge of the raid.
"The probe shows the Vietnamese Government's determination to crack down on illegal use of software programs, made both in Viet Nam and overseas," he said.
"MCI will keep cooperating with other State agencies to inspect enterprises suspected of using unlicensed software nationwide. First-time offenders will be black-listed and if they continue their violations, we will impose severe penalties subject to the Decree for settling administrative infringements," Mr. Thanh added.
A similar raid was conducted in Ha Noi in early March. These raids were part of a Government operation to fight software copyright violations in 2006. This operation is a step in the implementation of the Joint Program for Anti-Software Copyright Violations in the 2006-2010 period. Six ministries –Culture and Information, Science and Technology, Public Security, Finance, Agriculture and Rural Development – signed an agreement in January 2006 to carry out the program.
Viet Nam's Law on Intellectual Property Rights will take effect on July 1, 2006 to play a significant role in protecting the rights.
 
At present, many companies in the software industry are supporting other businesses in using licensed software programs while the law has two more months to come into force.
This year, Viet Nam has seen special events in information technology. The world's biggest chip maker Intel is investing in the country and Microsoft Chairman Bill Gates is due to visit on April 22 at the invitation of Prime Minister Phan Van Khai.