A doctor of Bach Mai Hospital in Hanoi was arrested for throwing the body of a woman into a river, after she died while undergoing cosmetic surgery at his beauty salon.
Nguyen Manh Tuong is escorted by police officers to the Thanh Tri Bridge in Hanoi, where he thrown the body of Le Thi Thanh Huyen into the Hong (Red) River on October 19 (Photo: SGGP)
Investigation Police in Hanoi have filed criminal charges against 40-year-old Nguyen Manh Tuong, Director of Cat Tuong Beauty Salon at 45 Giai Phong Street in Tu Liem District in Hanoi and Dao Quang Khanh, a security guard of the beauty salon, for murdering and hiding a crime, informed Colonel Duong Van Giap, Chief of the Hanoi Criminal Investigation Department.
Cat Tuong Beauty Salon was established in April 2013 with 20 staff. It had been granted business certificate but Dr. Tuong had not been granted a work permit. Despite this, Cat Tuong Beauty Salon offered many cosmetic services such as liposuction and breast enlargement.
According to Colonel Duong Van Giap, at 11pm on October 19, Vu Van Tuan, a resident in Thach Ban Ward in Long Bien District, found the victim's scooter and handbag in Co Linh Street in Thach Ban Ward.
Opening the handbag, Tuan found two ATM cards, one cell-phone, and an ID card of Le Thi Thanh Huyen. Tuan used the cell phone to call the latest number and contacted Huyen's husband, Nguyen Huu Huy, to inform him of finding the articles.
Sensing something bad had happened to his wife, Huy reported her missing to the local police, as also after his wife left the house at 8am, no one had been able to contact her.  Soon after receiving this information, the investigation police arrived at the scene.
Police expanded their search and discovered on the morning of October 18, Huyen came to Cat Tuong Beauty Salon at 45 Giai Phong Street for breast enlargement surgery. Beauty salon staff asked her to leave VND50 million (US$ 2,371) as a deposit for the surgery.
Huyen underwent on October 19 a breast implant surgery. She was anesthetized by Dr. Tuong and his two medical assistants and then they conducted liposuction and breast enlargement.
When Huyen experienced a fit of convulsions, Tuong gave her an injection of Diafegram 10mg and the convulsions stopped. However at 5.45pm, she turned blue, frothing at the mouth and her blood pressure could not be measured. Tuong was informed of the condition of the patient and gave her oxygen and other emergency treatment--but all efforts were in vain.
Fearing Huyen's death would be discovered, Tuong asked all staff to clean up equipment, medication, machines, and notebooks and then took the body in his car. He also asked security guard Dao Quang Khanh to leave Huyen's scooter on Co Linh Street in Thach Ban Ward in Long Bien District and then help him to throw the body into the Hong River at 11.30pm.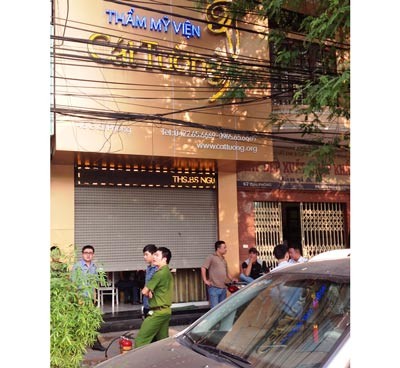 Cat Tuong Beauty Salon where Le Thi Thanh Huyen dies when she undergoes the breast enlargement surgery (Photo: SGGP)
The Ministry of Health has sent an urgent dispatch to the Department of Health in Hanoi asking for verification and a report on Cat Tuong Beauty Salon case before October 25.
Nguyen Viet Cuong, Head of Hanoi Department of Health, said Cat Tuong Beauty Salon illegally provided plastic surgeries as the salon did not have proper license.
Cuong said that even licensed beauty salons can only conduct certain specific services.
Police in Hanoi, in coordination with their counterparts in Hung Yen, Hai Duong, Thai Binh and Nam Dinh Provinces are continuing to search for Huyen's body to verify the cause of her death.