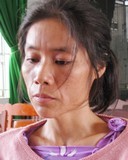 Nguyen Thi My, the mother cut her daughter's tendons by a pair of scissors
The Southern National Institute of Mental Health under the Ministry of Health said yesterday that a woman who cut her three-year-old daughter's tendons with a pair of scissors was mentally ill.
Nguyen Thi My, 33, who is on a three-month remand, has symptoms of asthenia and mental illness, a doctor from the institute said.
Asthenia is an anxiety disorder that is characterized by over fatigability, irritability, anorexia, inability to concentrate, drowsiness, headache and vertigo.
The institute says the finding can be a mitigating factor for My at court.
My was accused of abusing her three-year-old daughter Nguyen Thi Hao, after Hao was sent to hospital with more than 70 old and new wounds and bruises on her body on September 18.
Police in the southern Binh Phuoc Province had detained My for three months for further investigation since September 22.
Hao has left the hospital and now stays at a provincial social welfare center.