The Hanoi People's Procuracy has demanded death penalty for two former executives of the Vietnam National Shipping Lines (Vinalines) who went on trial on December 12.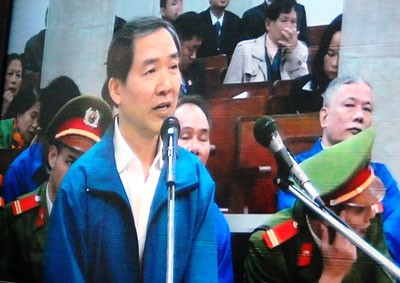 Duong Chi Dung at the court. (Photo:SGGP)
Former Chairman of Vinalines Duong Chi Dung and former General Director Mai Van Phuc have been charged with intentionally violating State regulations on economic management causing severe consequences and embezzlement.
Imprisonment of between 22-24 years was recommended for Tran Huu Chieu, Vinalines's former Vice General Director, and between 28-30 years for Tran Hai Son, Director of Vinalines Ship Repair Co. Ltd, on the same charges.
The prosecutors also sought 6-8 years in prison for Bui Thi Bich Loan, Vinalines' former chief accountant, Le Van Duong, former official at Vietnam Registry, and Huynh Huu Duc, Le Ngoc Trien and Le Van Lung, former officials at Van Phong Customs Office, Khanh Hoa province; and 8-10 years for Mai Van Khang, member of Vinalines project management board, on charge of intentionally violating State regulations on economic management causing severe consequences.
Besides, Dung, Phuc, Son and Chieu were asked to pay back over VND28 billion (US$1.3 million) they had embezzled, while the ten defendants would have to pay compensation to damages they have caused in the case worth a total of VND338 billion ($15.8 million).
According to the indictment issued at the court, during 2007-2008, Dung and his accomplices violated regulations on investment, bidding and customs procedures for import and export through the purchase and repair of Floating Dock 83M. The malpractice caused losses of VND366.9 billion ($17.2 million) to the State budget.
In the deal, Dung and three others, namely Mai Van Phuc, Tran Huu Chieu, and Tran Hai Son, appropriated VND28 billion.
The indictment said while knowing that the floating dock, built in 1965, has been damaged and no longer in use since 2006 and its owner offered a negotiable price of under $5 million, Dung still signed Decision 186/QD-HDQT on February 15, 2008 approving the purchasing of the dock at a price tag of $9 million from an intermediary, the Singapore-based AP company, which bought the dock from its real owner at only $2.3 million.
According to the procuracy, Dung was the main culprit in the case and also misappropriated VND10 billion ($470,000).
Dung was arrested on September 4, 2012 after several months on the run since May 17, 2012 when an indictment and arrest warrant were issued for him.
The trial is scheduled to last three days.