Vietnamese security forces Dec. 12 officially released information relating to Huynh Van Ba, leader of the so-called Vietnamese Political and Religious Prisoners Friendship Association (VPRPFA) who was arrested early this month for trying to incite mass complaints and demonstrations against the Government.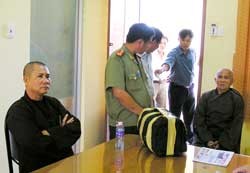 Huynh Van Ba (L) and Ho Buu Hoa (R)
VPRPFA aims to abolish Article 4 of the Vietnamese Charter and deny the effective rule by Communist Party of Viet Nam.
On December 2, after authorities in Bac Lieu province in the south routinely checked Ba's residence at 89/353, lot 10 ward 1, Bac Lieu Town, they found out and seized 3 trunks of documents, a portfolio containing 500 pages, one computer, three cell phones and many SIM cards, through which Ba allegedly contacted foreign anti-revolutionary cells.
Police concluded that at least 280 pages seized contain information "of a very reactionary [counterrevolutionary] nature" aimed at inciting protests against the Socialist Republic of Viet Nam (SRVN).
Disguised as a monk with the Buddhist name Thich Thien Minh, Ba claimed to work for "democratic youth representatives" and "representatives from victims of miscarriages of justice" to provoke Bac Lieu residents and others in the southern Mekong River Delta to lodge complaints - mostly regarding inadequate compensation for land acquisition for state public projects.
Ba also helped the complainants have direct interviews with "Radio Free Asia" (RFA), Radio Hoa Mai, Radio Tieng Nuoc Toi, all US-based radio stations which broadcast distorted information about the SRVN.
When arrested, Ba and his accomplice Ho Buu Hoa, 'advisor' to VPRPF but also disguised as a monk defiantly challenged their arrestors and aggressively defamed the SRVN's religious polices with vulgar language totally unexpected of monks.
Despite protests that they are innocent, the two could not explain why there were so many women in a monk's house at the time they were arrested.
Following investigations, police found out that on November 13, Ba came to Dong Nai province to meet Hoa to co-chair a meeting with a group calling themselves "representatives of democratic youths", namely Nguyen Thu Tram, Phan Le Nam Van Thien Chung, and Nguyen Thi Thu to discuss plans to incite grievances and industrial strikes.
Such actions, police discovered, were by orders of several offshore counterrevolutionary organizations including the "Viet Nam Human Rights Network", "International Movement for Supporting the People", "People's Democratic Party" and Viet Tan Party (Viet Nam Progress Party).
Vietnamese authorities consider the latter organization a terrorist group and have ample evidence it plans to assassinate officials and sabotage the government.
At the aforesaid meeting, Ba assigned each specific task to each person: for example, fabricating libelous information against the SRVN, posting them on the Internet, or finding ways to lure naïve people into Ba's VPRPFA.
Two VPRPFA members - Truong Minh Nguyet in Long An province and Nguyen Van Ngoc in Dong Nai - later founded another anti-state organization called "Group of Vietnamese Patriots" in Dong Nai but has since been disbanded by local police.
With the motto "one day in prison means membership in VPRPFA", Ba succeeded in luring some counterrevolutionaries who were once imprisoned in Viet Nam for illegal acts.
He even listed many people as VPRPFA members without their knowledge.
Police report that there are cases when a person finds himself/herself in the VPRPFA list only after calling Ba to ask for his health.
In related news, on December 11, the Dong Nai province People's Court jailed three people including a VPRPFA vice head for spreading propaganda against the SRVN from November 2006 to June 2007.
Charged with "abusing democracy and freedom to infringe on the interests of the State, the legitimate rights and interests of organizations and citizens" under Article 258 of the Criminal Code, deputy head of VPRPFA Truong Minh Nguyet, 61, was sentenced to four years.
Two others were jailed for four years and two years each.
US Ambassador backs Viet Tan?
On December 11, US Ambassador to Viet Nam Michael Michalak held a press conference in Ha Noi to deny that Viet Tan is a terrorist organization.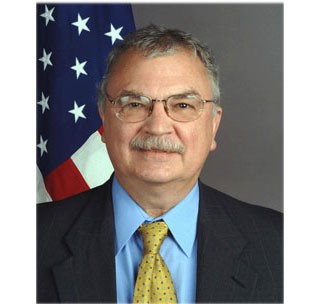 US Ambassador Michael Michalak
"Viet Nam has said that Viet Tan is on their list of terrorist organizations. Viet Tan is not on any list that I know of, of American terrorist organizations," the diplomat said.
"We have seen no information that would support charges of terrorism that have been suggested by the local media," Michael Michalak added.
The ambassador also said that he knows Viet Tan is not a terrorist group from a website describing a Viet Tan meeting back in 2004 in Berlin. According to this website, Viet Tan claimed it advocated peaceful pro-democracy activities.
However, on November 27, deputy minister of public security Nguyen Van Huong did supply information and evidence relating to Viet Tan's terrorist activities to the ambassador.
Ironically, while Michael Michalak believed what a website said about Viet Tan, he did not believe a senior Vietnamese official [Huong].
Further incomprehensiveness followed when the ambassador told the press that he had not officially received any charges against the arrested and that he did not know under which law they were charged.
However, according to deputy minister Huong, he had told the ambassador about Viet Tan's illegal activities in detail and that the arrested violated Article 84 of the Criminal Code.
Vietnamese security forces on November 17 detained five Viet Tan members holding US, Thai and French passports after catching them red-handed in Ho Chi Minh City with thousands of anti-state leaflets.
They also arrested two others - Le Van Phan, 55 and his wife Nguyen Thi Thinh, 54 when a gun was founded in their luggage at HCMC's Tan Son Nhat International Airport.
According to Lao Dong newspaper, the couple on Dec. 6 admitted that Viet Tan told them to traffick the pistol into HCMC as part of a Viet Tan plot to assassinate communist officials.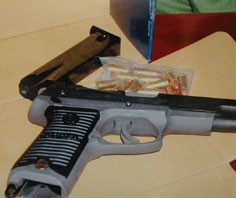 The Ruger model P85 No 300-76577 found in the couple's suitcase
Further evidence exposing Viet Tan's terrorist nature is a recent confession from Vietnamese-American Truong Leon who admitted to receiving Viet Tan orders two times this year to come to Viet Nam to "carry out plots to sabotage the Vietnamese State".
Truong Leon also told investigators "When I joined Viet Tan, I know that the predecessor of this party is the National United Front for the Liberation of Viet Nam… that has brought forces and arms into Viet Nam to carry out terrorist activities aimed at overthrowing SRVN".
Fifty-four-year-old Truong Leon (Vietnamese name: Truong Van Sy) was deported to the US on December 11. He was arrested November 17 in HCMC on charges of "terrorism" under Article 84 of the Criminal Code.
Local police said the deportation stems from his remorse, cooperation and promise never to work for Viet Tan or any similar organization.