The Standing Committee of the National Assembly discussed reforming and complementing intellectual property (IP) rights law and lower cost service for elderly people on February 24.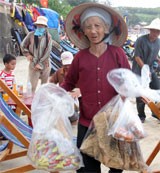 According to the Viet Nam National Institute of Gerontology's statistics, there are more than 8 million elderly people living in Viet Nam. The elderly account for 9.6 per cent of the total population. More than 72 per cent of elderly live in rural areas and 23 per cent are poor.
The government asked the Committee's opinion concerning some main issues: procedures to define intellectual property rights, and protection of intellectual property and rights related to crop varieties.
Most members of the Committee agreed to extend copyright to 75 years.
The extension of the copyright term is considered necessary to balance the interests of the market and consumers.
Strict IP rights have caused Vietnamese businesses and investor problems with a complex and costly legal environment. Many Vietnamese businesses are still not fully aware of the significance and operation of IP rights protection.
Few Vietnamese businesses have registered products for copyright protection.
The intellectual property law was originally promulgated in 2005, laying a solid basis for protecting the legitimate rights and interests of the State, intellectual property owners, consumers and the public, said lawmakers.
The draft IP law is expected to be approved by the Committee at the end of this year.
The Committee also discussed social service provisions for the elderly.
The proposal sees the elderly paying lower prices for medical examination and treatment, public transport, art and cultural activities, tours, utility bills and retirement homes and centers.
The Committee also encouraged cremations, as there is less graveyard space, and for the government to support part of the costs.
The lower price will only apply to the elderly and the expense fixed by government.
While the current regulations on the issue have come under criticism, there is hope the new law will be better received and is expected to be approved by the end of the year.
Foreigners over 60 years old who live in Vietnam will not be covered by the new amendment.