165 drug addicts escaped from the Education and Career Training Center 05-06 run by the Department of Labor, War Invalids and Social Affairs in the central city of Da Nang on Saturday.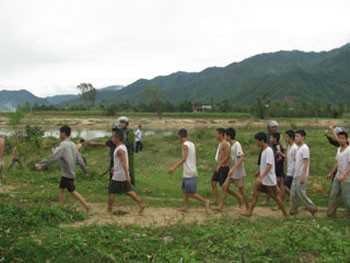 The escapees being rounded up (Photo: Thanh Nien)
Nguyen Hai Thuan, Senior lieutenant-colonel from the Da Nang City Police Station said three days earlier, the 165 escapees were provoked by four other drug addicts to scream at night.
By 7:30 am yesterday, they broke the doors, overpowered the wardens and made good their escape.
The Da Nang City Police immediately mobilized hundreds of police officials to coordinate with police forces in Hoa Vang District to block all roads leading from the center.
They also searched the forests, residential areas and Cu De riverside to catch the fugitives and take them back. By 4am on Saturday, 100 of the 165 addicts were rounded up and taken back to the center. The remaining 65, including one woman have not yet been found.
Earlier on the same day, representatives from the Department of Labor, War Invalids and Social Affairs heard the pleas and complaints of the center's trainees and agreed to increase their food allowance from VND240, 000 to 360,000 a month per trainee. They also agreed to improve the quality of meals served.
The center is continuing to collaborate with the city police and local authorities to find the remaining escapees.
The 05-06 center, rehabilitates nearly 400 people from crimes related to prostitution and drugs. Once earlier in 2006, after a storm, 100 people climbed over the walls to escape from the center.