The Ministry of Culture, Sports and Tourism last week sent out notices about infringements in the use of unlicensed computer software to computer businesses in Hanoi and Ho Chi Minh City, the country's two major cities.
On Feb. 20, ministry inspectors came to 13 computer businesses on Vo Van Tan Street, District 3, Ho Chi Minh City with the notices and helped them raise awareness of the intellectual property right violation.
All the thirteen companies signed receipt of the guidelines on fighting intellectual property right violation in connection with computer software.
Mr. Vu Xuan Thanh, the ministry's chief inspector, said, "A fact with these companies is they just pre-install unlicensed software on new computers for sales to customers. Sometimes the buyers simply don't know that they have bought a computer preloaded with unlicensed software."
He added that this behavior must be changed or the wrongdoers must be fined.
Also last week, an inspection team from the ministry and the Ministry of Public Security raided Hanoi-based Thuy Linh Company, a trader of computers, telecoms equipment and electronics. The task force scrutinized 36 computers and found all of them installed with unlicensed Microsoft Windows XP for use in business activities.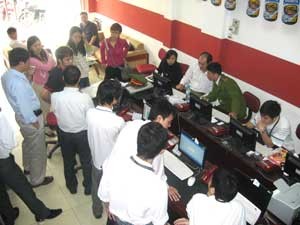 Inter-ministerial inspectors check up computers at Thuy Linh Company in Hanoi on Feb. 18
Company director Nguyen Anh Linh accepted software computer piracy. The inspection team said it would soon issue a penalty against the company.
The Ministry of Culture, Sports and Tourism recently announced a directive on enforcement of copyrights, including a fine up to VND500 million (more than US$29,000).