Two language centers in Ho Chi Minh City have been caught violating copyright laws by reproducing British textbooks without permission and selling them to their students at higher prices than the original.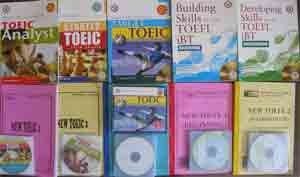 Orignal text books with CDs and countefeit versions with reproduced CDs (Photo: Vietnam Net)
Yesterday the police raided IWEP Language Center's branch in District 10 and found nearly 400 photocopies of eight English textbooks like New TOEIC and New TOEFL stored there.
 
Bui Van Cuong, manager of IWEP's Administrative and Personnel Department, claimed the books were photocopied by the center to give free of cost to poor students. 
 
Pham Thi Hong Tham, principal of IWEP, claimed the center never sold the textbooks to its students. It has to photocopy copyrighted textbooks only because the originals are too costly for the students, she said.
 
But receipts obtained from several students told a different story: The photocopies had been sold by IWEP at prices even higher than the original books. 
 
For instance, a set of Target TOEIC, including CDs, jointly published by Tre and First New Publishers, costs VND148,000 at city bookstores. But IWEP sells its counterfeit version for VND160,000.
 
All the books were seized by the police. 
 
On the previous day officials from the HCMC Press and Publishing Office and inspectors from the Department of Culture and Communication conducted a raid on the East-Europe Language Center in District 1, and again found illegally reproduced textbooks and CDs originally published by Tre and First News publishers. 
 
Some students said they had been forced to buy these books at much higher prices than the copyrighted ones. 
 
But East-Europe staff refused to admit how many illegal copies had been made by the center. They also turned off the power to prevent the inspectors from making a report and later refused to sign it. 
 
Both IWEP and East-Europe are owned by MHT Co. Ltd., which has dozens of language centers throughout the city.