The Market Management Unit of Tan Phu district, Ho Chi Minh City, yesterday discovered a company making counterfeits of famous brands of television sets like Sony and Samsung.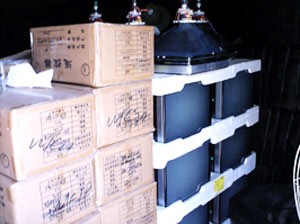 TV parts are found at Hung Nghiep Company's warehouse yesterday
The unit stopped and checked a truck after it had just left Hung Nghiep Company's warehouse on To Hiep Street, Hiep Tan Ward yesterday and found 200 TV main boards, speakers and covers which didn't have any legal documents.
 
Searching the warehouse, the unit uncovered nearly 2,000 TV tubes, 1,980 TV main boards, 5,000 remotes, 3,255 TV chassis and dozens of kilograms of Sony and Samsung labels. There were also some completed TV sets with the Samsung brand already attached.
 
Hung Nghiep Company had been importing the parts from China and assembling then illicitly branding them to sell in the local market.