A couple and their five year old son were attacked by four strangers at their home in the hamlet of Phu Ke Dong in Tam Xuan 2 Commune, Quang Nam Province, February 22. Meanwhile, a middle-aged woman was murdered the following day in Ho Chi Minh City.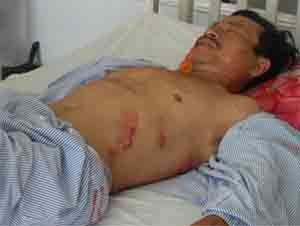 Nguyen Nhu Que with injuries to his body (Photo: Tuoi Tre)
Nguyen Thi Hoa, 45, recalling the violent attack, said, " That evening, while we were watching TV, we heard someone knock at the door and yell my husband's name. I came to open the door and immediately after it was opened, four strangers barged into our house.

"They quickly locked the door and used iron slats to beat me repeatedly on my head, arms and belly until I collapsed. Then they ran into the bedroom and beat my husband, Nguyen Nhu Que, unconscious. "

Their son, Loa, largely escaped physical damage after hiding under the bed.

"When our neighbors rushed to our house when they heard our shouts for help, the killers ran out of the house, hopped on their motorbikes and rode away," Hoa said.

The victims were taken to the Quang Nam Province General Hospital for treatment. Que and Hoa have severe injuries to their heads, arms and stomachs while Loa has some bruises on his back.

One of the strangers is suspected, by Hoa, to be Nguyen Nhu Kha, a relative of her husband.

Hoa said that Kha and Que had fought each other earlier over a land dispute between the two families.

The deputy head of the police of Tam Xuan 2 Commune, Mai Dinh Thanh, said that the police have not yet taken the victims' statements but said inquiries are being made.

The following day in Ho Chi Minh City, a woman was found murdered in her home at 214 A Nguyen Thien Thuat Apartment Building, District 3.

The victim, Nguyen Thi Dung, 44, had a number of severe injuries and an open wound on her neck.

Aside from being a foreign currency trader, Dung was also the owner of an internet cafe. She lived with her nine year old adopted daughter and nephew.

Her neighbors said that at 9 a.m., they saw Dung returning home after taking her daughter to school.

At 9:30 a.m., Dung's nephew returned after going out for breakfast, and found blood stains in the corridor leading to her apartment.

Dung was found prostrate in a pool of a blood on the kitchen floor.

Reports suggest Dung was divorced and was dating an overseas Vietnamese.

The investigation continues.