National Assembly (NA) deputies asked for firmer legal grounds to tighten labor export management activities in relation to a new draft law on sending guest workers abroad at a meeting in Ha Noi on Tuesday.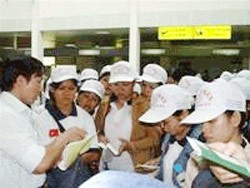 Vietnamese workers are at Tan San Nhat Ariport, ready to work overseas.
Speaking the meeting, NA Social Affairs Committee Chairwoman Nguyen Thi Hoai Thu said that many Vietnamese workers have suffered after signing contracts with foreign employers without sufficient management or support from local Vietnamese authorities.
In response to the problem, Mrs. Thu suggested the draft law include an adjustment to control market management, creating a foundation to protect worker's rights and interests.
Mr. Nguyen Van Thuan, Vice Chairman of NA's Law Committee, said the draft law should provide clear protection for guest workers by the Vietnamese government.
According to Mr. Thuan, there must be tighter regulations on the signing of labor export contracts to ensure fair wages and other safety working conditions for Vietnamese guest workers.
Deputy Nguyen Thi Bach Mai suggested a regulation that points out clearly the minimum deposit and compensation for guest workers in case their rights and interests are violated.
But some deputies disagreed with the draft law's stipulation that a labor export business should not be allowed to establish more than two branches, saying that the stipulation violates businesses' rights.
Most of the deputies agreed that there should be no limit to the number of branches established.