The Ho Chi Minh City People's Court sentenced a Nigerian man to death on March 22 for illegal transportation of drugs.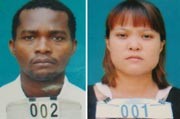 Michael Ikenna Nduanya and Nguyen Thi Hai Anh (File)
The court also sentenced his Vietnamese wife to life imprisonment for the same crime.
 
Michael Ikenna Nduanya, 34, confessed that he had visited Vietnam in 2008 and had met Nguyen Thi Hai Anh, 27, from Dak Lak Province and they had since lived together as husband and wife.
 
Wanting to earn money quickly, the couple joined an illegal trade ring to transport drugs from India to China via Cambodia and Vietnam. They received US$1,000 for each drug delivery.
 
Since early 2009 to December 2009 they were able to transport nearly 990 grams of dope until Hai Anh was caught red-handed illegally carrying drugs at the Mien Dong coach station in HCMC.