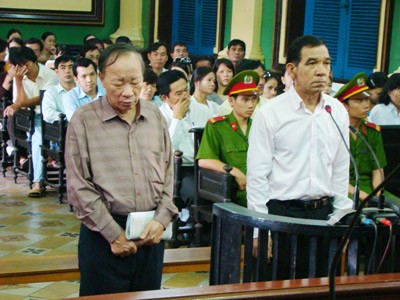 Le Qua (left) and Le Ngoc Si at the trial. (Photo: SGGP)

The Supreme People's Procuracy on September 9 prosecuted Huynh Ngoc Si, former director of the Management Board of the ODA-funded East-West Highway project in Ho Chi Minh City, on charges of "taking bribes" with the highest punishment of life-sentenced or death.
According to the indictment, Si took US$262,000 from executives of Japan's Pacific Consultants International (PCI) for awarding design and supervision consultancy contracts to the company.
As the ex-PCI officials, who were prosecuted on charges of bribery and violations of Japan's anti-competition laws, confessed that Si received their bribes six times in total, the Ministry of Public Security's Investigation Agency decided to continue further investigation.
The ex-employees with Japan's PCI admitted to giving Si a total bribe of $800,000 between 2003 and 2006 for the provision of consultancy services for the East-West Highway project.
The East-West Highway project was approved in 2000, using the Japanese Government's ODA and Vietnam's capital.
In March 2010, Si, who is also former deputy director of HCMC's Department of Transport, was sentenced to six years in jail on charges of "abuse of power", and his deputy, Le Qua, was also sentenced to five years in jail for the same charge, as they misappropriated funds earned from leasing a state-owned house on Nguyen Thi Dieu Street in District 3 to Japan's PCI.
The money received from the contract between August 2001 and November 2002, estimated at around VND1.2 billion ($66,500), was not submitted to the state budget but disbursed among 87 officials working in the project.
Si and Qua took VND52 million and VND54 million respectively from the contract. The two officials also used VND350 million for "treating guests."