Former rock star Gary Glitter was released yesterday after his jail term for molesting children was commuted by three months, but authorities packed him off immediately to his native Britain.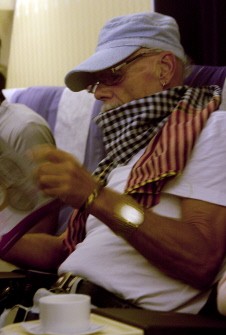 Former British glam rocker Gary Glitter sits on a flight from Ho Chi Minh City to Bangkok after his release form his Vietnamese prison on August 19, 2008. (AFP Photo)
After his release from a (where) jail, he was taken to Ho Chi Minh City's Tan San Nhat International Airport in the presence of British consulate officials and put on board an aircraft, as ordered by the People's Supreme Court.
He had wanted to go to some other country but Vietnamese authorities would only allow him to go to the country that has issued his current passport.
Glitter, real name Paul Francis Gadd, 64, was arrested in November 2005 and convicted of raping two girls aged 11 and 12.
He got three years in jail and had to pay US$4,000 to the victims.
His term was commuted by three months on the occasion of Tet last year, a time when the president amnesties many criminals.
According to AFP, he was due to have boarded an overnight flight to London from Bangkok but stayed in the transit lounge complaining of chest pains.
Lieutenant General Chatchawal Suksomjit, who earlier said Glitter was persona non grata in Thailand, said in a statement that the 64-year-old would be expelled as soon as possible.
"Paul Francis Gadd will be deported to his home country, England, unconditionally and as soon as possible," AFP quoted Chatchawal as saying.
"He poses a danger to a peaceful and orderly society, and offends Thai morals," Chatchawal added.