The Police's Investigation Office released Monday that it has filed a case in relation to the illegal transportation of 1.5 kilos of gold at the Tan Son Nhat International Airport on Oct 16.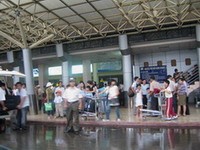 HCMC-based Tan Son Nhat International Airport (Photo: VietnamNet)

Nguyen Xuan Hao, an aircraft technician employed by Viet Nam Airlines, brought a small carry-on with him on the Boeing 777, No. VN 741, flight to Russia. But, during a routine security check, the inspector found 1.5 kilos of gold stashed inside the bag.

The initial investigation revealed the gold to be the property of the known criminal, Dang To Hai, who has been personally connected to Hao. Hao was instructed to give the gold over to the flight crew en route to Russia.

The involved suspects declared that each of them would receive US$200 for the gold's successful transport.