Insurance premiums for motorcycles and cars are set to increase by 10 to 20 percent next year according to a  circular issued by the Ministry of Finance on December 25.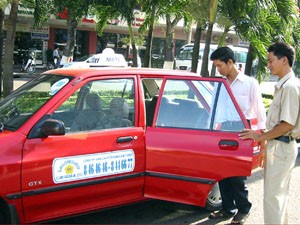 A customer takes a taxi in HCMC. Insurance premiums on private cars and motorcycles will increase by 10 to 20 percent in 2009, while for taxis it will be 50 percent higher than for private cars. (Photo: Tuoi Tre)
The new rate for motorcycles below 50cc is VND50,000, up from VND45,000.
For 50cc and higher, it goes up from VND55,000 to VND60,000.
For cars not used for business purposes, it goes up from VND600,000 to VND690,000 in case of six to 11 seats, and from VND690,000 to VND1.104 million in case of 12 to 24 seats.
And, the fee increases from 1.38 million to 1.587 million for over 24 seats.
Cars used for business, the fee ranges from VND630,000 to VND3.2 million depending on number of seats.
Taxis have to pay 1.5 times the premium other cars do.