The Court of Appeals in the central province of Khanh Hoa Friday adjourned the trial of a former provincial official accused of graft after he claimed his boss had approved and directed the practice.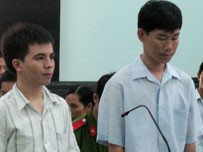 Phan Xuan Tung (R) and Nguyen Trung Thanh at the appeals court in Khanh Hoa Province
Phan Xuan Tung, ex-official of the province's Department of Planning and Investment, had been charged with receiving bribes worth US$71,000 between October 2006 and February 2007 from a South Korean businessman.
At the Court of First Instance in January, Tung had been sentenced to 20 years in prison after pleading guilty.
Each time, his superior had also instructed Tung to deposit the bribes in the bank, the court was told.
The new development prompted the judges to defer the hearing so that investigators could probe Tung's allegations further.
The case
Standing in the dock with Tung was Nguyen Trung Thanh, an ex-translator for the Korean-owned Sky Resort Ltd., for brokering bribes.
Thanh also lodged an appeal after being jailed for 12 years.
Thanh had allegedly received $2,000 from Tung.
In early 2006, Lee Sang Hyeok, a representative in Vietnam of South Korean-owned Sky Resort Ltd., applied to build a resort in Khanh Hoa's Cam Ranh Peninsula and Tung was assigned to consider his application.
Tung kept asking Lee for money through Thanh so he could get the license expedited, according to the indictment.
From October 2006 to February 2007, Tung received $71,000, gave $2,000 to Thanh, spent $1,500, and deposited the rest in his bank.
Last May Lee asked Tung to return the money since the project had not been licensed because the government had yet to zone the peninsula.
The Korean company reported the bribe to Tung's superiors and demanded the money back.
When Tung refused, Lee complained to Nguyen Thi Thu Hang, vice chairwoman of the Khanh Hoa authorities, according to the police.