Police are searching for the killers of a jewellery store owner, his wife and 18-month-old daughter in district Luc Ngan in the northern province of Bac Giang, a gruesome murder that has sent shockwaves in the local community.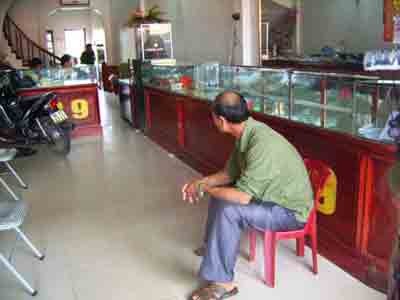 The jewelry shop where the murders took place
37-year-old Trinh Van Ngoc, a jewellery store owner, his wife and 18-month-old daughter were murdered yesterday at their home.
Ngoc was found dead on the staircase while his wife, Ninh Thi Chin was found killed on the third floor. Their 18-month-old daughter was found lying in a pool of blood in her bed. All three bodies had multiple slashes on them.
The couples other daughter, 9-year-old Trinh Phuong Thao, somehow escaped such a brutal fate. She was found hiding in a wardrobe with her right arm chopped off and the left one with deep stab wounds.
Thao phoned her relatives about the murder, who arrived immediately. They had to break in to the house as the door was found shut.
Little Thao was rushed to the Viet Duc hospital in Hanoi for emergency treatment. Hospital doctors said they had succeeded in joining her arm to her body.
At the hospital, Thao gave descriptions of the murderers to the local police. She said that she could not see their faces clearly, but remembered they were two men and that their hair was dyed red and blue.
Police said that all the gold and money in a safe on the second floor of the shop had been stolen and the shop window on the first floor was found broken, but jewellery pieces on display were still intact.
The jewellery shop is located in a bustling and busy street in Luc Nam District and police hope to get more leads from other witnesses.