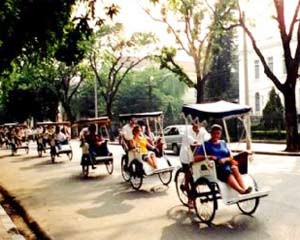 Cyclos take tourists around Ha Noi city.
Cyclo drivers who flaunt the rules will face stiffer penalties from April 2, the Ha Noi People's Committee warned this morning.
The city's police say they will fine any driver who parks illegally, rides dangerously, or whose cyclo is oversized or overweight.
Companies that operate cyclo tours will also be penalized if their drivers fail to obey the code of the road or are otherwise irresponsible.