Penalties for overloaded trucks will increase based on the Government's Decree 107/2014/ND-CP, which replaces last year's Decree 171.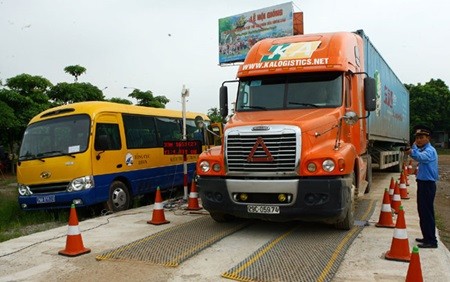 A truck is weighed in Gia Lam District, Ha Noi. A new decree increases penalties for overloaded trucks. –— VNA/VNS Photo Huy Hung
Under the old decree, overloaded truck owners were fined VND5-7 million (US$240-300). Now, owners of trucks carrying double their capacity will be fined VND7-8 million ($300-380) while other drivers will face the same fines as before.
Violators will also have their driving licences withdrawn for three months.
 
The decree will go into effect at the beginning of next year.
Chairman of the Vietnam Automobile Association Nguyen Van Thanh told Nong thon ngay nay (Countryside Today) newspaper that the decree should include penalties for goods owners.
Minister of Transport Dinh La Thang said that recently truck owners, transport enterprise owners, ports and terminals had pledged not to overload automobiles.
In addition, transport inspectors will strengthen registering and punishments and require goods in overloaded trucks to be unloaded. These measures would bring the problem under control by the end of next year, said Thang.