The trial for forgery at Hoai Duc General Hospital was held at the People's Court in Hanoi on March 7.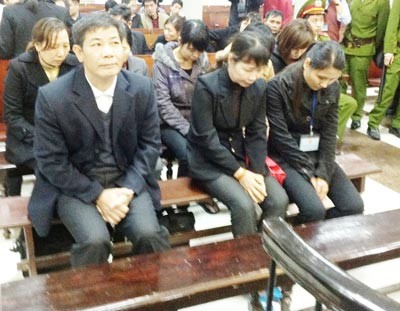 The defendants at the court (Photo: SGGP)
Head of Diagnostic Department Vuong Kim Thanh received a 12-month prison sentence while others including Nguyen Thi Nga, Nguyen Thi Thu Trang, Nguyen Thi Hong Nhung and Nguyen Dong Son each received six months of probation.
Vurong Thi Lan and Nguyen Thi Xuyen each received eight months of probation.
Director Nguyen Tri Liem received a warning and Deputy Directory Nguyen Thi Nhien received a 10-month re-education sentence.

Those prosecuted with 'taking advantage of their position while on duty' and 'lack of responsibility leading to serious consequences' admitted their wrongdoings.
Their defense was that they committed the infractions due to obedience and low awareness of law. They falsified medical records to increase income of all staff.

The two directors plead not guilty to not having any knowledge of the mishap.

Hoang Thi Nguyet and Phan Thi Nam Dong were present at the court as witnesses and were publicly insulted by relatives of defendants.

Last year, Hoang Thi Nguyet, an employee of the hospital, had sent a letter to authorities denouncing some employees at the Testing Division of the hospital with faking test results of outpatients.
The letter states no blood tests submitted by patients were actually conducted on proper machines. The same results were printed for many patients.

Related articles:
Proceedings filed against Director of Hoai Duc Hospital
Medical personnel at Hoai Duc Hospital prosecuted for fraud
Hanoi hospital suspends Director in forgery case
Police to investigate faked medical records in Hanoi Hospital