According to a decision announced by the Vietnamese Ministry of Health, imported food can only be sold here if it bears a quality certificate from a state agency.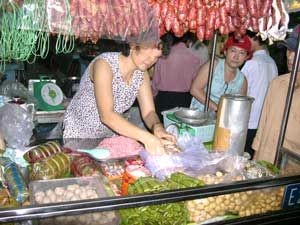 Food hygiene must get more attention as food poisoning increases
The decision forms part of the new regulations governing the safety and hygiene of imported food signed by Health Minister Trinh Quan Huan.
If an imported food product does not meet the new standards the company that imported it must recycle or destroy.
Imported foods considered to be high risk, including meat and diary products, eggs, fresh and processed seafood, natural mineral water, food additives, frozen food, soybean products and vegetables, will be put under the microscope.
In addition, the Food Hygiene and Safety Agency will carry out tests on foods thought to be suspect by customs officials.
Food already for sale on store shelves will also be checked if the Health Ministry believes it may contain substances which may adversely affects a consumer's health.
However, imported food that has been certified by a foreign state food administration will be exempt from examination as will food being distributed by a company in Viet Nam if it has received certification by the Food Hygiene and Safety Agency at least five times previously.