The People's Court in Ninh Kieu District in the Mekong Delta City of Can Tho on October 28 convened a meeting to mediate between a 38-year-old woman named Hua Cam Tu and the Can Tho City General Hospital, where doctors apparently goofed up on a kidney operation on her.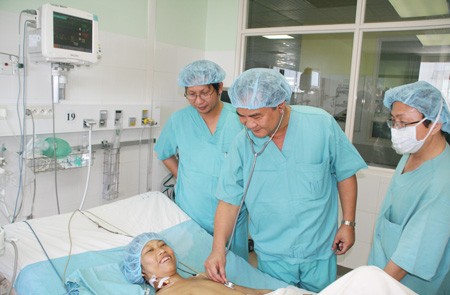 Hua Cam Tu in The General Hospital in Hue City for reoperation
Earlier, Hua Cam Tu, who had lost both her kidneys in a medical malpractice case in December 2011, had taken legal action against the hospital where doctors had botched her kidney operation by not checking if the patient had horseshoe kidneys prior to the operation.
The conciliation between the two sides was unsuccessful as neither agreed over the compensation.
Accordingly, there will be a second settlement on November 5. Judge Nguyen Che Linh has ordered both the sides to prepare a detailed report of expenses incurred and decide compensation, and for Dr. Tran Van Nguyen, who had performed the unsuccessful operation on Tu, to be present in court.
Nguyen Thien Tri, Tu's husband, said his family had decided to sue the hospital for compensation. According to the complaint, Tu claimed that the hospital must compensate for total damage of VND443 million (US$20,821), including the trip cost to Thua Thien-Hue City for reoperation.
In addition, Tri has asked the hospital for monthly damages of VND8.1 million ($384) because the botched surgery has incapacitated her for work. This includes transport cost each month for follow-up examination at hospitals and financial support for her three children.
Speaking on behalf of the hospital, Dr. Nguyen Van Nghia, Deputy Head of the Hospital, said Tu's horseshoe kidney is rare in the country and every surgery undergoes occupational hazards. The hospital had done its best and even sent her to Hue City for further treatment as well as giving her financial support during her stay in Hue.
Tu underwent a laparoscopic surgery at the Can Tho Hospital on December 6, 2011 after being diagnosed with hydronephrosis of the left kidney, which is an enlargement due to urinary tract obstruction.
However, doctors failed to read the scan and Dr. Tran Van Nguyen, Head of the surgical team, while operating on the left kidney, mistakenly 'touched' the right kidney which caused severe bleeding that could not be stopped. His surgical team had no choice but to conduct an open operation to remove both kidneys to save Tu's life, as they could not stop the severe excessive bleeding.
The hospital board of management then suspended the surgical team who had been responsible for this serious blunder and inflicted penalties on them.
Related articles:
Doctors blunder in Can Tho hospital, remove both kidneys of patient

Can Tho Hospital to deliberate on goofed up operation
Scientific council agrees doctors blundered on kidney operation