Inspectors from the Ministry of Culture, Sports and Tourism, and the Ministry of Public Security this week found two companies in Ho Chi Minh City use unlicensed software programs worth up to VND5 billion (about US$294,000).
On Feb. 23, the inspection team raided three offices of the Vina Game Software Services Company, better known as Vinagame, checking 156 out of 350 computers in use. They found different software programs being used without license.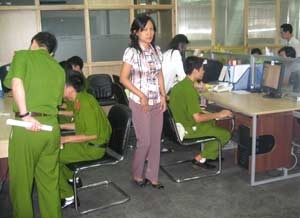 Inspectors check up computers at a Vinagame office in Ho Chi Minh City Feb. 23 (Photo: Hoa Pham)
Vinagame vice CEO Le Thi Hong Diep accepted her company's violation of intellectual property rights by copying, installing and using the software programs without permission of the copyright owners.

On Feb. 24, the inter-ministerial task force checked up the engineering consultant company Nagecco. They inspected 125 computers and discovered a large number of illegal software programs preloaded in the computers used for business purposes.
The unlicensed software programs found in the two companies include such popular ones as AutoCAD, Windows XP Professional, Windows Server CAL, Microsoft Office, Office XP, Lac Viet Dictionary, and Photoshop.
The task force requested Vinagame and Nagecco to stop their infringements. The inspectors said they would issue penalties soon.