Tran Thi Thuy Lieu confessed to police on February 20 to burning her husband to death in the southern province of Long An.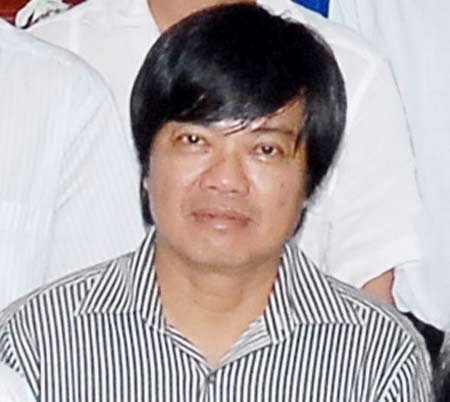 Late reporter Le Hoang Hung (file)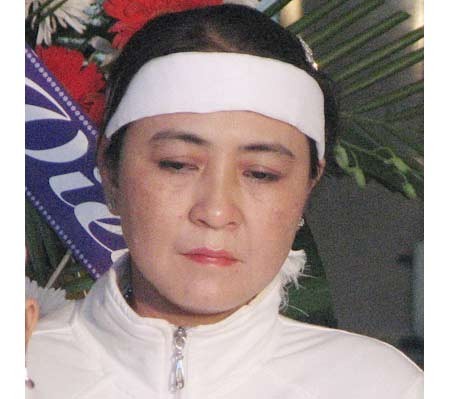 Tran Thi Thuy Lieu, reporter Hoang Hung's wife, at his funeral (file)
After returning home from the Long An Police Department of Criminal Investigation on Social Order after an interrogation at about 5 pm on February 20 she returned back to the department at about 9:30 pm to make her confession.

She confessed that she burnt Hung after an altercation with him, relating to money matters.

Lieu said she meant to just warn her husband but unintentionally killed him.

Her husband, Le Hoang Hung, was a reporter for the Nguoi Lao Dong newspaper.

Hung was set on fire while he was asleep in his bed early January 19. Family members rushed Hung to a hospital near his home in Long An Province.

He however succumbed to serious burn injuries with over sixty percent of his body suffering from extensive burns. He died in Cho Ray Hospital in Ho Chi Minh City on January 29.
Friends said that Hung had quarreled with his wife over whether or not to sell their home in Tan An Town in Ward 6, to cover mounting debts.
The couple normally slept together with their youngest daughter, in a front room on the second floor with an attached balcony. That unfortunate evening Hung slept alone.
At around 1 am, his wife set her 51-year-old journalist husband on fire.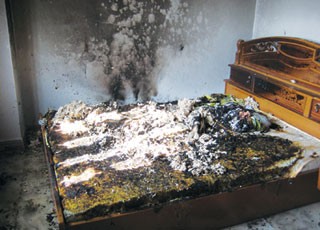 The bed where reporter Hoang Hung was burnt (file)
When questioned, his wife Tran Thuy Lieu said that she and her two daughters heard a knock on their bedroom door. When they opened it, she saw her husband "burning like a torch."
She said she rushed Hung to the bathroom to douse him with water, but by that time half his shorts had already burnt to ashes.
Lieu's sister and next door neighbor, Tran Thuy Nga, said that one of Hung's daughters had called her to help. Her husband climbed from his balcony to the second floor of Hung's house and encountered the horrifying scene.
He rushed back to his home, grabbed a blanket and smothered the flames that covered Hung's body. Nga later saw her husband taking Hung out of the house.
"He was still conscious and was saying he didn't have any enemies," she recalled, adding that Lieu and her two daughters were crying and hadn't yet contacted emergency services.
Hung's relatives called a taxi to take him to Long An Hospital. Doctors there then transferred him to Cho Ray Hospital in Ho Chi Minh City for emergency treatment. He arrived in the hospital around 3:30 am.
Lieu assumed that Hung had been lying on his side, facing a wall as the burns covered most of his back and hands. She also suspected he may have been doused with alcohol before being set on fire.
Police said they found a rope tied to the balcony on the second floor but it was too short to allow a suspect to enter from the ground floor.
Hung's father-in-law, Tran Van Men, said they found traces of a burnt canvas near the chicken cage adjacent to the victim's house. Police collected a white lighter from the scene of the crime.