The National Assembly Standing Committee session closed Tuesday with unsatisfied suggestions to the draft laws of complaints, accusations and measurement.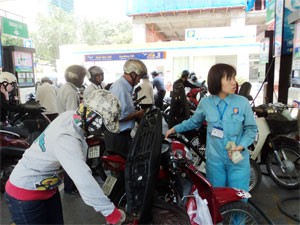 People have gas refills at a station in HCMC. Legislators worried the draft Law of Measurement still hardly help people avoid cheats at gas stations and gold shops (Photo: Minh Tri)
K'sor Phuoc, Head of the Ethnics Council, disagreed with the committee's decision to wait for a government's Resolution to explain the procedures of mass complaints.
Mr. Phuoc suggested that the Law of Complaints have a chapter with specific regulations for mass complaints.
"The National Assembly cannot avoid this job. It cannot pass anything that it considers difficult to the government," he said.
People who took advantage of mass complaints to stir public disorder or violence will be punished under other laws, Phuoc suggested further.
Nguyen Van Hien, Chairman of the Judicial Committee, also wondered about the need of leaving the job to the government.
Hien said that a hearing with many people being the plaintiff or the defendant is handled almost the same as those with one-person plaintiff or defendant.
He said there's no need for a total new set of procedures for mass complaints as the only difference is that the complaints are lodged by many people together.
The argument did not come to a solution and had to be left for later sessions of the assembly.
Many legislators at the meeting were also divided over a suggestion to the draft Law of Accusation that crime tips can also be reported via emails, fax and cell phones besides directly or by post as currently allowed.
Some officials worried that Vietnam's agencies will not be able to check and confirm all the accusations, given that many of them would be sent via the extended passages.
Nguyen Thi Kim Ngan, NA vice chairwoman, said concerned agencies "do not have enough people" to confirm the truthfulness of the tips sent via fax, cell phones and emails after 15 to 45 days as the draft law requires.
Ms. Ngan said the people making the crime tips should leave their identity and promise to take responsibility for the tips.
Meanwhile, officials at the meeting said that the draft Law of Measurement is still confusing as many points are explained with big words that are difficult for normal people to understand.
A representative from the group which drafted the Law of Measurement said there would be instructions to make the law effective.
Nguyen Van Giau, head of the NA Economy Committee, said that the draft law might not provide what people have expected, especially regulations about controlling cheats in petrol and gold trading.
But the group promised they will follow a South Korean experience that concerned authorities would drive to petrol stations on vehicles with special gas tanks that can make any cheating caught red-handed.